This is an archived article and the information in the article may be outdated. Please look at the time stamp on the story to see when it was last updated.
Simi Valley police are investigating after three dogs were shot with a BB gun in the backyard of a residence, authorities said Thursday.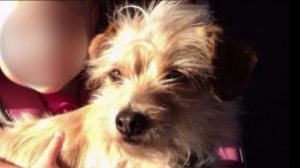 The dogs were shot Wednesday while they were in the backyard of a home near the intersection of Crosby Avenue and Invar Court, police confirmed.
"I heard a pop, pop, pop noise," said neighbor David Le, who described hearing as many as 50 shots.
One of the dogs, named Lucky, suffered a life-threatening injury after being hit and is being treated at an animal hospital, according to a GoFundMe page.
"He is struggling to survive the gun shot wound inflicted on him that penetrated his chest wall," the post read.
Another neighbor was concerned more pets may be targeted. "People are going around playing target practice with someone's animals … It's heartbreaking," she said.
Police said the shooting appeared to be an isolated incident, but are still investigating.