This is an archived article and the information in the article may be outdated. Please look at the time stamp on the story to see when it was last updated.
Three pit bulls were shot, two fatally, by police after officers observed the dogs attacking a man – and killing his smaller dog – in downtown Los Angles Wednesday morning, according to LAPD.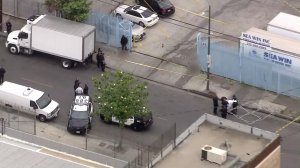 Officers initially responded around 8:30 a.m. to the 500 block of Stanford Avenue following a radio call of a man being attacked by pit bulls.
When officers arrived, they found the victim screaming on the ground, the dogs on top of him, Los Angeles Police Department officials said. The victim's dog, which was smaller than the pit bulls, was killed by the three larger dogs.
At some point, responding officers grabbed their weapons and opened fire on the dogs in an effort "to preserve life," the department tweeted.
LAPD Lt. Chris Ramirez explained there is a protocol involved when dealing with aggressive animals.
"When you're dealing with animals … we try to teach [officers] techniques or tools, like fire extinguishers. Anything that we have available and we have time. In a situation like today, we didn't have a lot of time," he said.
Officers tried to use a Taser, which was ineffective.
"So the officers used whatever tools and means available, and tried to solve the issue at the time, or de-escalate it, but in a case like today – they had to resort to lethal force," Ramirez said.
LAPD confirmed two of the pit bulls died, and a third was being treated.
Sky5 video over the scene show that the four dogs had apparently been injured; three of the animals appeared to be dead, while a fourth was still visibly moving.
Police confirmed one of the dogs that died belonged to the victim, a man in his 50s who had been walking his pet when the off-leash pit bulls attacked.
The man suffered multiple bite wounds all over his body and was taken to a hospital, where he was last reported to be in stable condition, Ramirez said.
A man who owns a neighboring business said the pit bulls' owner regularly allowed the dogs to roam around the neighborhood.
"Whenever they come out, I go back inside and lock the door," Kambiz Ayenechi said. "They were always out without a leash, so sooner or later, something would have happened."
KTLA's Jennifer Thang and Melissa Pamer contributed to this story.