This is an archived article and the information in the article may be outdated. Please look at the time stamp on the story to see when it was last updated.
A woman was dead and three of her family members were injured after an allegedly intoxicated driver crashed into them as they were on foot in Irvine Wednesday night, authorities said.
The crash was reported just before 8 p.m. near the intersection of Ridgeline and Turtle Rock drives, said Capt. Tony Bommarito with the Orange County Fire Authority.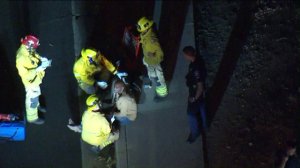 It's unclear what led to the crash, but Bommarito said the vehicle had gone over the side of the road.
A 45-year-old woman, a 16-year-old boy and a 15-year-old girl were all taken in ambulances to O.C. Global Medical Center in Santa Ana, while a 49-year-old man was airlifted to UC Irvine, Bommarito said.
The woman died from her injuries after 9 p.m., according to Irvine police.
The other victims were all in serious condition and were being treated as trauma patients, officials said. Authorities did not provide details on their relationship but confirmed they were family members.
The driver, identified as 37-year-old Irvine resident Kamal Attoh, was arrested on suspicion of driving while intoxicated, said Irvine Police Officer Kim Mohr.
Ridgeline was expected to be closed to traffic between Hillsborough and Turtle Rock Drive through at least 11 p.m.
KTLA's Nidia Becerra and Erika Martin contributed to this story.
The Irvine Police Department is currently investigating a single vehicle traffic collision in the area of Turtle Rock Drive and Ridgeline. As a result, Ridgeline will be closed to traffic between Hillsborough and Turtle Rock Drive for the next 2 hours.

— Irvine Police Department (@IrvinePolice) May 17, 2018