This is an archived article and the information in the article may be outdated. Please look at the time stamp on the story to see when it was last updated.
A truck linked to three teens missing out of Fontana was found 900 feet over the side of Angeles Crest Highway above Altadena Monday evening, and three fatalities were confirmed in the crash.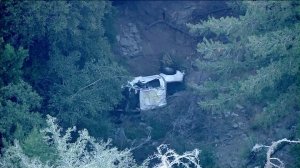 California Highway Patrol officials said the license plate of the white truck found near mile marker 40, which is within a few miles of the turnoff to Mount Wilson, matches the vehicle used by Daniel Gamboa, 19, Kasey Vance, 18, and Samantha Ornelas, 17.
The teens were last seen on Saturday when they apparently were going on a hike near Mount Wilson. They had not returned home since.
The Los Angeles County Fire Department confirmed that three bodies were found in the wreckage, amid a tangle of trees. Officials have not, however, confirmed whether the teens were killed in the crash.
Fontana police personnel, along with the Los Angeles County Sheriff's Department and L.A. County Fire Department search and rescue crews, had been combing the Angeles National Forest for the missing teens.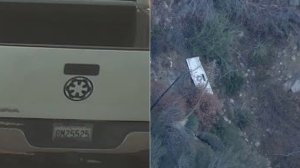 Authorities had also been looking for Gamboa's 2008 white Toyota Tundra pickup truck, which has a California license plate No. 8M25525 and bears a "distinctive emblem" on the vehicle's tailgate, according to a news release from the Fontana Police Department.
Aerial video from Sky5 showed a tailgate with a sticker matching the description of the one on the truck.
Los Angeles County Sheriff's air rescue crew officials told KTLA that the helicopter had been searching the highway between Lytle Creek and La Cañada all day, when about 5 p.m. they found the tailgate and eventually located the truck.
Distraught family members quickly arrived at the crash site, but were given little information.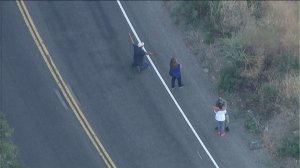 "All they said is just wait for tomorrow," Ornelas' aunt said.
Some were still holding out hope their loved one might still be alive.
"There's nothing we can do, just pray that she comes home, hoping she's not down there," said Ornelas' cousin Tony Quintero.
Authorities were searching for clues to determine where the teens might have been.
Gamboa's credit card was used in Rancho Cucamonga after midnight on Sunday, according to detectives. Ornelas' cellphone apparently pinged a cellphone tower near Mt. Wilson early Sunday, but the other teens' cellphones had not pinged, officials said.
During a news conference Monday evening  before the wreckage was found, Isabel Ornelas, Samantha's sister, said it's alarming not to know where her sister might be.
She said the outing with her friend, Gamboa, and his friend Vance was "spontaneous" because she was not dressed for a hike.
"I'm thinking spontaneous turned into a disaster," Isabel Ornelas said.
She added that her sister is responsible and regularly calls to check in with her mother.
"She's a good kid. This isn't the type of kid who goes out partying or drinking," she said during the news conference.
Isabel Ornelas asked anyone who sees her sister and the other teens to alert authorities.
"This heat is horrendous. I can't imagine what these kids are going through right now," she said.
Juanita Ornelas, Samantha's mother, described her daughter as a "good girl" in Spanish.
Fighting back tears, Juanita Ornelas added that she had had a rough day because another daughter died 30 years ago and Saturday was that daughter's birthday.
She said it was easy for her to tell Samantha she could go out.
"And my daughter didn't come back," Juanita Ornelas said in Spanish.
KTLA's Melissa Pamer, Kennedy Ryan, Nidia Becerra and Geoff Peters contributed to this story.