This is an archived article and the information in the article may be outdated. Please look at the time stamp on the story to see when it was last updated.
A "person of interest" wanted in connection with three fatal shootings in the San Fernando Valley was detained Sunday night following a standoff with officers in Sylmar, the Los Angeles Police Department said. The barricade situation followed a daylong investigation into a trio of separate incidents that occurred within an hour of one another on Sunday morning.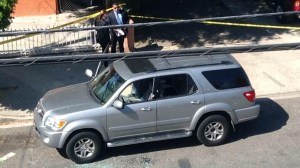 The unidentified man was detained without incident by SWAT officers about 8:30 p.m. at a house in the 13700 block of Kismet Avenue (map), said Capt. William Hayes, commander of the LAPD's Robbery Homicide Division. He was transported to a hospital and treated for minor injuries, Hayes said.
The investigation into the series of homicides, which all occurred within a span of 5 miles, began around 5:50 a.m. when San Fernando Police Department officers responded to the 1400 block of Celis Street (map) and discovered a family of five who had been shot in an SUV, authorities said.
Four were wounded, one gravely, and a 20-year-old woman died at the scene, an LAPD news release stated. The condition of the surviving victims was not immediately known.
The family had been on their way to church when they were attacked in a car-to-car shooting, police said.
The deceased woman, who was wheelchair-bound, was identified by neighbors as Mariana Franco. She was sitting in the back seat, on the driver's side, and was killed instantly when the shots rang erupted, witnesses said. News footage later showed at least two of the vehicle's windows were blown out.
The woman's parents, Jose and Beatriz Franco, were among the others who were struck by gunfire. They had planned to pick up a friend before attending a 6:30 a.m. Mass at Santa Rosa Catholic Church, where Jose Franco was employed, neighbors said. The church is less than half a mile from the scene of the shooting.
About 45 minutes later, Mission Division officers responded to reports of gunfire at the Sylmar Recreational Center in the 13000 block of Borden Avenue (map). When they arrived, officers discovered that a Hispanic male between the ages of 25 and 35 had been shot, according to the release.
He was pronounced dead at the scene.
Foothill Division officers located another shooting victim around 6:45 a.m. in the 12900 block of Fillmore Street (map). The victim, described as a 50-year-old Hispanic woman, had a gunshot wound to the head, police said in the release. She also died at the scene. Authorities had initially described her as an African-American woman.
Family and friends identified her as Gloria Esperanza Tobar, and gave her age as 59, the L.A. Times reported.
In the hours following the shootings, the LAPD said the "suspects were described as two male Hispanics" in a gold or tan SUV with tinted windows.
"I cannot tell you for sure if there was a second individual, but we are following all clues and leads at this point and time," Hayes said at an evening new conference, after the person of interest was taken into custody.
Anyone with information was urged to contact Los Angeles police at 1-877-527-3247.
People wishing to remain anonymous were asked to contact Crime Stoppers by calling 1-800-222-8477, texting a message to 274637 beginning with the letters "LAPD," or going to the website www.lapdonline.org.
KTLA's John A. Moreno contributed to this report.