This is an archived article and the information in the article may be outdated. Please look at the time stamp on the story to see when it was last updated.
UPDATE:
Multiple people have been arrested in connection to a hit-and-run that killed three 13-year-old girls who were trick-or-treating Halloween night, the Santa Ana Police Department stated in a news release Sunday.
Click here to read KTLA's updated story.
ORIGINAL POST:
As a search continued Saturday for two men wanted in connection to a hit-and-run that killed three 13-year-old girls who were trick-or-treating in Santa Ana Halloween night, the coroner's office identified the victims – two of whom were twin sisters.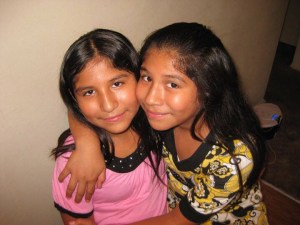 The three teens were walking in a crosswalk when they were struck by a speeding Honda CRV in the 1400 block of Fairhaven Street (map) around 6:45 p.m. Friday, not far from Fairhaven Elementary School.
The coroner's office identified the twins as Lexi Perez and Lexandra Perez and the third girl as Andrea Gonzalez. A friend told KTLA the twin girls' last names were Perez Huerta.
The impact of the crash caused the girls to be thrown more than 100 feet, authorities said.
All three were pronounced dead at the scene.
"Witnesses say the vehicle was traveling at a high-rate of speed. I didn't see any skid marks, so it doesn't appear they slowed down whatsoever," said Santa Ana Police Department Capt. Anthony Bertagna. "They left these three young women laying in the street, and left without calling, without stopping, without rendering aid. It's hard to even fathom doing that."
The crash occurred in a 35 mph area, and officials suspected the driver may have been traveling double that speed.
One witness followed the SUV to a nearby strip small, where they reported seeing two men – a passenger and driver – get out of the vehicle and flee on foot.
No description of the men being sought had been released.
The SUV's registered owner had lived near the crash, but recently moved, officials said. It was unclear if the vehicle had been stolen.
Police were checking surveillance video from businesses in the area to see if the pair had been captured on camera.
They were also asking witnesses to step forward and provide information.
"At this point, we need the community's help, anybody that saw these individuals. Did they call somebody? Did they get picked up? Were they seen running on foot past the freeway?" Bertagna asked. "People are going to be talking about this. These individuals could be talking about this."
The victims' friends and family gathered at a memorial for the girls on Saturday.
"These two men don't deserve to live, or be free at all. They need to pay for what they did to all those three girls, they broke their dreams," the twins' older brother Luis Huerta said.
The Alexandra and Lexi Perez Huerta Memorial Fund Facebook page was created Saturday and asked for donations for the their funeral expenses.
Members of the Decentes Car Club OC told KTLA they also planned to donate some proceeds from a Nov. 7 event to the girls' families. An event flier stated it would include music, raffles and a hot dog eating contest.
The Santa Ana Police Department could be contacted at 714-245-8665. Additionally, anonymous tips could also be left through Orange County Crime Stoppers by calling 855-847-6227 or by visiting the website occrimestoppers.org.
More videos: