This is an archived article and the information in the article may be outdated. Please look at the time stamp on the story to see when it was last updated.
The criminal case against three people arrested in the killings of a Fullerton couple and another man is likely to be handed to prosecutors Tuesday, police said.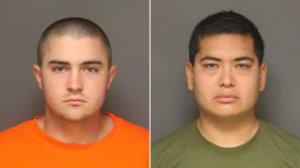 Two men and an unidentified 17-year-old girl were arrested Sunday in the deaths of three adults whose bodies were found Saturday morning after a little girl called 911 from at home in the 400 block of South Gilbert Street, saying her parents had died.
Josh Acosta, 21, or Fort Irwin, and Frank Felix, 25, of Sun Valley, and the teen are being held on suspicion of murder and conspiracy, Fullerton Police Department Sgt. John Radus said Monday. He expects the case to be handed to the Orange County District Attorney's Office on Tuesday, he said in an email.
The trio were taken into custody Sunday morning.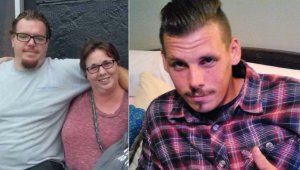 They are suspected in the deaths of Christopher Yost, 34, Jennifer Goodwill Yost, 39, and the couple's friend, 28-year-old Arthur William Boucher.
The suspects are believed to have known the victims, Radus said.
The investigation began when a child called police at 8:21 a.m. Saturday, saying her parents had "died." Responding police officers found the victims dead at the home with "significant trauma."
Two girls, age 6 and 9, were also found at the home, physically unharmed. The younger girl had called police, authorities said.
Police soon asked for help finding 17-year-old Katlynn Goodwill Yost, who lives at the home and was described as missing and at risk. She was found unharmed, police said in announcing the arrests, emphasizing that they could not legally identify the juvenile who was detained in the homicides.
Police have not said whether Katlynn Yost is the teen suspect.
The suspects and Katlynn Yost were apparently involved in the Southern California "furry community," fans who meet up to dress up like animals, the Orange County Register reported. Victim Jennifer Yost was a "mother figure" to the SoCal Furs, a furry group with members across the region, a member of the group told the Register.
Jennifer Yost was Katlynn's mother and Christopher Yost was the teen's stepfather, police said. Boucher was a family friend who stayed at the home occasionally.
"They were good people. They were really good parents too," said Kim Gracier, Boucher's mother, of the Yosts.
Boucher, who went by Billy, had a 5-year-old son and was widely loved, Gracier said.
"I just don't know what happened. ... I just want to know why," she said.