This is an archived article and the information in the article may be outdated. Please look at the time stamp on the story to see when it was last updated.
One person died and three were injured after the car they were traveling in flipped over and landed just outside the front yard of a home in North Hills on Friday, officials said.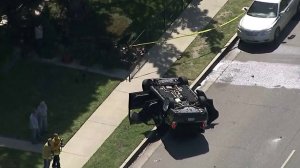 Police received a call about the crash in the 16200 block of Plummer Street at about 3 p.m., Los Angeles Police Department Officer Tony Im said.
The black sedan had apparently crashed into two vehicles parked along Plummer Street before launching into the air and overturning, according to an alert from the Los Angeles Fire Department and a witness at the scene.
Video of the scene showed a black vehicle completely upside down and resting partially on a curb and some grass just outside the front yard of a home.
A female passenger in the front seat was ejected and died after being transported for treatment, LAPD Officer Drake Madison said.
The driver, a man, and a passenger were left severely injured, while the third passenger suffered only minor injuries, Madison said. All three were being treated at a nearby hospital, firefighters said.
No further information was available.
KTLA's Matt Phillips and Erika Martin contributed to this report.