This is an archived article and the information in the article may be outdated. Please look at the time stamp on the story to see when it was last updated.
Three people were injured by stab wounds during a soccer match brawl on Sunday at El Camino High School in Whittier and the suspect is still at large, according to Los Angeles County Sheriff's Department.
About 20 to 30 people were involved in a fight that took place during a soccer game at the school, sheriff's deputies said. The three injured people suffered superficial stab wounds but their current conditions are unknown, deputies said.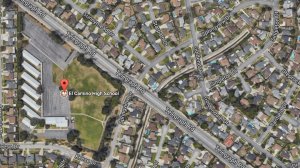 The man who stabbed three people is only described as wearing a black t-shirt at the time, and he is still at large, deputies said.
Adrian Marquez, a witness at the scene, said it was an adult soccer game that included people of all ages over 18. He said the fight started when a foul was called.
"The teams started arguing but then they calmed down," Marquez said. "What got everything heated was when the coach — he punched one of the opposing players … and that's when everyone got involved. Everybody — the whole teams. It was crazy."
From there, even people on the sidelines joined in the fight, Marquez said. At some point, a person started stabbing people, he said.
"Man, why do you gotta bring a knife, you know?" Marquez said.
"Everybody came to have fun, you know?" he said. "It's supposed to be friendly. We bring our families, our kids, just to have fun."