This is an archived article and the information in the article may be outdated. Please look at the time stamp on the story to see when it was last updated.
Three people were killed when a wrong-way driver going about 100 mph slammed into another vehicle on 101 Freeway in Ventura, officials said Thursday.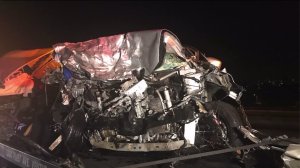 Emergency crews responded just after midnight to a collision on the southbound side of the freeway near Seaward Avenue, the Ventura City Fire Department stated in a news release.
Firefighters found two vehicles that were involved in a high-speed head-on collision.
One of the vehicles was hanging from the guard rail on Lemon Grove Bridge as the second vehicle came to a stop on the roadway about 50 yards to the north.
Three adults found inside the two vehicles were all pronounced dead at the scene, according to the Fire Department.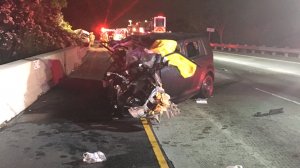 The wrong-way driver was traveling on the center median and then in the fast lane of the 101 Freeway when the collision occurred, California Highway Patrol Sgt. Tom Webster said.
Authorities tracking the vehicle on the northbound side of the freeway recorded the driver's speed at about 100 mph, Webster said.
The victim's struck by the wrong-way driver had little chance to avoid the vehicle, said Webster, who offered advice to early morning drivers.
"In all practicality it's much better in the early morning hours, when drunk drivers are out there … to drive in the right-hand lane," Webster said.
Investigators have not said if drugs or alcohol were a factor in the crash.
None of the those killed in the crash were immediately identified.
The southbound 101 Freeway was down to one lane for several hours Thursday morning during the investigation.