This is an archived article and the information in the article may be outdated. Please look at the time stamp on the story to see when it was last updated.
Three people were killed after a Mercedes-Benz traveling at a high-rate of speed crashed head-on into a Honda and split in half on the Pacific Coast Highway in Ventura early Tuesday, according to the California Highway Patrol.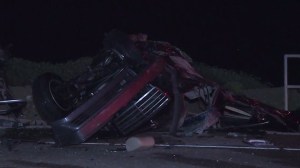 The violent crash occurred shortly after midnight just south of Mugu Rock, Ventura CHP Sgt. David Hong said.
Witnesses told CHP that a black Mercedes was speeding down the highway in a northerly direction when it lost control near La Jolla Canyon Road, according to Hong.
The vehicle then began spinning in a counter-clockwise direction and collided head-on with a Honda that was headed in the opposite direction.
"The Mercedes was cut in half," Hong said. "The front end was spun around. The rear end went toward the rocks toward the ocean. And the driver was partially ejected."
Three male occupants in the two cars — the driver in the Mercedes and a driver and passenger in the Honda — were pronounced dead at the scene. Their names have not been released.
According to Hong, investigators initially did not realize that the Mercedes had split in two and believed a third-vehicle was involved.
Hours after the crash, the mangled wreckage of the Mercedes and the Honda remained on the highway, which was completely shut down for nearly two hours while CHP investigated the crash.
The northbound lanes were reopened around 1:45 a.m., according to the log. By 4 a.m., all lanes were open again.
The cause of the crash remained under investigation.
More Video: