Four Los Angeles police officers and two women suspected of carjacking suffered minor injuries after a chase ended in a crash at a freeway onramp in Pacoima early Monday, authorities said.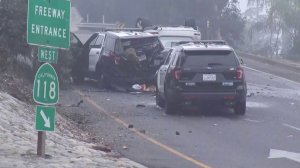 Police were patrolling the area near Foothill Boulevard and Wentworth Street in Sunland around 4:30 a.m. when they ran the license plate number of a white Mercedes-Benz SUV and learned that it had been taken in an armed carjacking in the Bay Area over the weekend, LAPD Officer Jeff Lee said told KTLA.
Officers tried to pull over the driver, who did not stop and instead led them on a chase on the northbound 210 Freeway and the westbound 118 Freeway, Lee said. The motorist exited at Glenoaks Boulevard in Pacoima but in an attempt to reenter the freeway, the vehicle lost control and ended up on its roof near the onramp.
That's when a police SUV that was following behind crashed into the back of another LAPD vehicle, Lee said.
Video from the scene shows a heavily damaged LAPD vehicle behind a white Mercedes SUV that came to rest upside-down.
Four officers and the two women inside the Mercedes were hospitalized but all are expected to be OK, according to LAPD.
Authorities planned to book the women on suspicion of evading officers after their release from the hospital, Lee told KTLA.
The crash happened about 6 miles west of where the chase began.
Authorities blocked the Glenoaks Boulevard onramp during the investigation and reopened it just before 9 a.m.
LAPD previously said three officers were hospitalized in the incident.