This is an archived article and the information in the article may be outdated. Please look at the time stamp on the story to see when it was last updated.
Two California Highway Patrol officers and one Sacramento County Sheriff's deputy were shot Wednesday at the Ramada Inn at Fulton Avenue and Auburn Boulevard, KTLA sister station KXTL reported.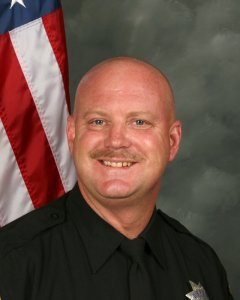 The deputy, identified as Bob French, was killed. French, 52, was a 21-year veteran with the department. Sheriff Scott Jones said French is survived by his three adult children, grandchildren and his live-in girlfriend.
A multi-agency auto theft task force was investigating suspects at the Ramada Inn. One stolen vehicle led officers on a chase that ended in Elk Grove. Two women were taken into custody, according to sheriff's spokesperson Sgt. Tony Turnbull.
When officers went into the motel to search the room, a suspect, identified only as a 31-year-old Bay Area man, opened fire through the door and walls, striking two CHP officers. Sheriff's deputies were engaged in a gun battle with the shooter, who Turnbull says was on the room's balcony with a "high-powered rifle." At some point, French was struck by gunfire.
The gunman fled the hotel in another vehicle. Turnbull says when the chase ended in a crash in front of El Camino High School on El Camino Avenue, there was another exchange of gunfire. The suspect was hit and taken to a hospital. He is listed in critical condition.
One CHP officer was released from the hospital Wednesday night, while the other is scheduled to undergo surgery. Both are expected to recover. Six additional officers who fired their weapons during the incident have been placed on paid administrative leave, which is standard protocol for the department.
Officers searched the Ramada Inn for several hours on Wednesday. They determined that the hotel was safe and that there were no further suspects inside.
The Red Cross said it was assisting guests at the motel, providing a "day" stay location with air conditioning and refreshments. Psychologists were also made available to hotel guests.
The intersection of Fulton and Auburn was shut down Wednesday afternoon. Those exits on the Business 80 freeway were also shut down, severely impacting traffic. Turnbull said Wednesday evening that they would likely be closed into the night.
A helicopter above the scene was warning neighbors to lock doors and stay inside.
El Camino High School and Arcade Middle School both sheltered in place for a short time. Students at El Camino High School were dismissed on the Eastern Avenue side of campus, not the El Camino Avenue side, as there was still an active scene.
The task force the officers belong to is known as the Sacramento County Auto Theft Suppression Task Force, or SACCAT. It's managed by the California Highway Patrol, and made up of officers from the CHP, the Sheriff's Department and the county Probation Department.
They conduct street level vehicle theft enforcement and investigate chop shops and theft rings. SACCAT is partially funded by DMV registration fees.
A memorial fund has been set up to help Deputy Robert French's family. Donations can be made online at the CAHP Credit Union website or by mailing checks to:
Robert French Memorial Fund
CAHP Credit Union
2843 Manlove Road
P.O. Box 276507
Sacramento, CA 95827-6507
Ramada Shooting: 2 CHP ofc & 1 Sac Sheriff deputy shot. 3 suspects arrested, 1 shot. At least 2 suspects believed 2 still b in hotel @FOX40 pic.twitter.com/IbPkrRhm67

— Karma Dickerson (@karmadfox40) August 30, 2017