This is an archived article and the information in the article may be outdated. Please look at the time stamp on the story to see when it was last updated.
Three members of an identity-theft crew have been arrested in Lomita after targeting more than 20 people in Los Angeles, Riverside and San Bernardino counties, authorities said.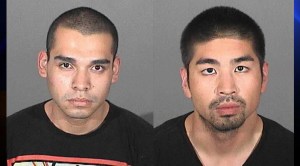 Arnulfo Rodarte, of San Pedro, and Sylvester Curameng, of Torrance, are accused of burglary, identity theft and possession of personal profiles belonging to their victims, according to a news release from the Los Angeles County Sheriff's Department. Andrea Serrao, of San Pedro, was arrested for embezzlement, the release said.
Surveillance video showed Rodarte and Curameng using a stolen credit card, which had been taken from an unlocked vehicle in Rancho Palos Verdes, to make purchases at a Target in San Pedro on July 6, the Sheriff's Department said.
Detectives from the sheriff's Lomita station were watching the footage when one of them recognized Rodarte, who had been arrested in the past, authorities said.
The detectives obtained a search warrant targeting Rodarte. While the warrant was being served, investigators identified the suspect's "crime partner," Curameng, who is believed to be the second man seen in the surveillance video, according to the news release.
The detectives found "numerous" pieces of mail, officials said, and a notebook containing identifying information belonging to victims from the following cities:
Alhambra, Arcadia, Carson, Cerritos, Chino Hills, Diamond Bar, El Monte, Hawthorne, Hermosa Beach, Harbor City, La Puente, Long Beach, Menifee, Moreno Valley, Ontario, Pacoima, Palos Verdes Estates, Pasadena, Rancho Cordova, Rancho Palos Verdes, Rolling Hills Estates, Rosemead, San Dimas, San Pedro, Torrance, West Covina and Whittier.
The stolen information was used to buy at least $100,000 worth of furniture, jewelry and "high-end type items," said sheriff's Lt. John Wolak.
Serrao, who had been named as a suspect in a vehicle embezzlement case investigated by the Los Angeles Police Department's Pacific Division, was also arrested while the search warrant was being executed.
She allegedly rented a 2013 Mercedes-Benz C250 from Enterprise Rent-A-Car and never returned the vehicle, police said.
"It is believed she obtained the vehicle for Rodarte and Curameng, who used the Mercedes to commit their crimes," the release said.
The two men were being held Saturday at the Inmate Reception Center in Los Angeles in lieu of $20,000 bail, online records showed. Serrao was in custody at the Century Regional Detention Facility after her bail was set at $25,000.
The three suspects are expected to be arraigned in Los Angeles Superior Court in Torrance on Monday.
"The main thing that I think people need to do is: when they're expecting some type of mail, if they don't get it they need to immediately contact the bank or the credit-card company that sent it to them [and] put a stop on that card," Wolak said. "If they feel like they're a victim of identity theft, they need to contact their local law enforcement."