This is an archived article and the information in the article may be outdated. Please look at the time stamp on the story to see when it was last updated.
Three men appeared in federal court Wednesday to face charges of illegally setting a campfire that spread and burned nearly 2,000 acres in the Angeles National Forest.
A criminal complaint was filed Tuesday against the three men in their 20s who were arrested after running from the fire, which began just before 6 a.m. Jan. 16. They admitted they had camped in the mountains above Glendora and set a small fire that burned out of control, according to court documents.
The suspects have been identified as Clifford Eugene Henry Jr., 22, of Glendora, and Jonathan Carl Jarrell, 24, and Steven Aguirre, 21, both described as transients.
They appeared in U.S. District Court in downtown Los Angeles on Wednesday afternoon. Aguirre was ordered held without bail until his next hearing, in part because of possible substance abuse issues.
Prosecutors described an extensive criminal history for Henry, citing convictions for sexual battery and solicitation of lewd conduct. He was ordered detained. Both Aguirre and Henry were due back in court Feb. 5.
Jarrell's attorney requested a psychiatric evaluation for his client, and the judge continued a bail hearing for that defendant until Friday.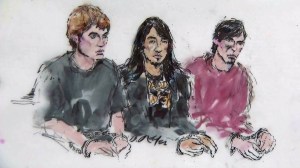 The blaze, dubbed the Crosby Fire, burned 1,952 acres, destroying 5 homes and 10 outbuildings, and damaging eight more structures. Three people were injured, including two firefighters.
Thousands of homes were evacuated during a firefight that was just beginning to wrap up nearly a week after it began. The fire was 98 percent contained as of Tuesday evening.
"It's clear the conduct here is not only criminal, but it also shows you that illegal wildfires in particular lead such  wake of destruction,"  Assistant U.S. Attorney Amanda Bettinelli told reporters.
According to court documents, the three men told investigators that the blaze began when wind blew burning paper from their campfire into the brush.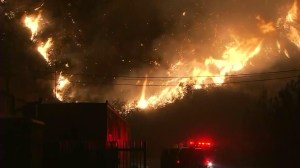 The suspects were charged with unlawfully setting timber afire, a felony offense that carries a possible five-year prison term, according to a spokesman for the U.S. Attorney's Office for the Central District of California. The men allegedly built the fire outside of a developed recreation site, in violation of U.S. Forest Service regulations.
A U.S. Forest Service fire investigator determined the fire started near the point where the three men had built a "fire ring" on federal land, according to an affidavit in support of the criminal complaint.
The threesome admitted they had hiked into the mountains on the evening of Jan. 15, found a spot to camp and set up a small fire that they put out before going to sleep, according to the affidavit.
Then, before dawn the next day, they awoke because it was cold and started a second fire, putting notebook paper on the flames that was then blown into a nearby bush. The men said they tried to stomp out the flames but could not, according to the affidavit.
They ran from the fire and were separately apprehended by Glendora police and U.S Forest Service officers who thought they appeared suspicious.
"These sorts of actions … the defendants described themselves as 'stupid' … really put in harm's way so many individuals," Bettinelli said.
KTLA's Christina Pascucci contributed to this article.