This is an archived article and the information in the article may be outdated. Please look at the time stamp on the story to see when it was last updated.
Three men were sentenced Friday to 15 years in state prison for their involvement in a shootout last year that left a San Bernardino police officer in grave condition, according to the San Bernardino County District Attorney.
San Bernardino residents Jonathan Contreras, 20, Orlando Cruz, 24, and Gonzalo Medina, 22, pleaded guilty to one count each of assault with an assault weapon on a peace officer and furnishing a firearm, the DA stated in a news release. They were then sentenced to 15 years in prison by Judge David Mazurek.
The men were part of a group approached by San Bernardino Police Department Officer Gabriel Garcia and trainee Officer Marcus Pesquera on Aug. 22, 2014.
Garcia was almost immediately shot, and Pesquera, who had graduated form the police academy two months prior, returned gunfire.
Alex Alvarado, identified by police as the man who shot Garcia, was shot and later died at the hospital.
At the time Contraras, Cruz and Medina were arrested, DA Michael A. Ramos said they weren't believed to have fired a gun, but were aware of the weapons present. They were initially also charged with attempted murder.
"As I said before, if you aid and abet or conspire with another person to shoot a police officer, or any other person, you will be held accountable – even if you don't pull the trigger," Ramos said Friday.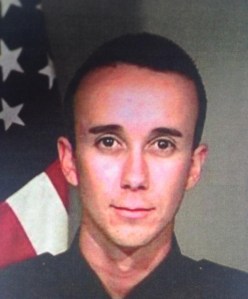 Garcia, who was 31 at the time, was hospitalized in grave condition the day of the shooting.
Less than a month later, he was taken out of a medically induced coma, and in November he was released from the hospital and taken to a rehabilitation center.
Garcia's father, Ron Garcia – a captain of the police department, said his family was "witness to an exceptional will to survive on the part of our son."
During Gabriel Garcia's recovery, his parents said they were grateful for the public's support, which included a restoration of their son's home.
On Friday, Ramos said he was pleased to see the progress Gabriel Garcia continued to make.
"While this case may be finished in the courtroom, our thoughts and prayers will continue to be with Officer Garcia whose recovery has been an inspiration to so many, and with his partner, whose bravery we will never forget," Ramos stated.
A huge thank you to the District Attorney's Office for ensuring that those who attack police officers will be held accountable.

— San Bernardino PD (@SanBernardinoPD) August 28, 2015