This is an archived article and the information in the article may be outdated. Please look at the time stamp on the story to see when it was last updated.
An 18-year-old man was arrested Friday after allegedly shooting three men in front of a convenience store in Rialto, police said.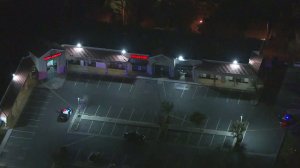 The incident was reported about 2:20 p.m. at the store in the 400 block of West Baseline Avenue, Rialto Police officials said in a news release.
Responding officers found a man in front of the store with a gunshot wound to the head. The victim was taken to Arrowhead Regional Medical Center in Colton, where he is listed in critical condition, police said.
Two additional victims were also taken to the hospital after the shooting with gunshot wounds to their stomach and leg.
The men were driven there from the scene by friends and are in critical but stable condition, police said.
A dog apparently was also shot during the commotion.
The shooting occurred near Eisenhower High School and Dunn Elementary School.
Medardo Hector Ramirez was identified as the shooter in the incident. He allegedly walked up to the victims in the parking lot of the store and shot them during an argument. Ramirez then ran into an apartment where he was eventually tracked down by a bloodhound.
He was arrested on suspicion of the shooting and booked into jail.
The incident remains under investigation.