This is an archived article and the information in the article may be outdated. Please look at the time stamp on the story to see when it was last updated.
A video released by the Los Angeles Police Department Thursday shows three men burglarizing a home in Encino over the summer.
The June 13 burglary occurred near the 15800 block of Moorpark Street — an area that is experiencing "a rash of burglaries," some of them targeting celebrities' and sports figures' homes, LAPD said in a news release.
Three men climbed a fence into the home's backyard around 11:50 a.m. and then covered a camera with a red shirt, according to police.
They then smashed a rear window and ransacked the home, stealing watches and jewelry before they fled the area, the release stated.
The surveillance video shows a car driving by the home and then cuts to a camera view of two men walking into what appears to be an enclosed patio.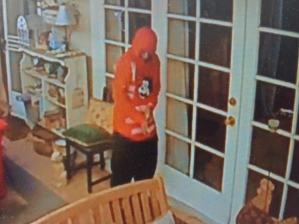 There, a man wearing a red, hooded sweatshirt walks in and appears to be checking the locks on some French doors, as he's seen turning the knobs. Another man wearing a dark-colored sweatshirt walks in after and peeks through a glass door.
Police described one of the suspects as measuring between 5 feet 6 inches to 5 feet 8 inches tall, weighing 140 to 150 pounds and wearing black pants and a red sweatshirt with a cat face on it.
LAPD officials believe he may have been involved in other burglaries in L.A. County while wearing the same sweater.
Another suspect is described by authorities as approximately 5 feet 4 inches to 5 feet 6 inches tall, weighing 170 to 180 pounds and wearing a dark hooded sweatshirt with black shorts and shoes.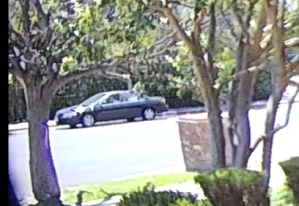 The third suspect was seen wearing a dark hooded sweatshirt, police said. That person is less visible in the video, standing further in the background.
The car the burglars were last seen driving is a green, four-door sedan, police said.
No further details were available.
Detectives said anyone with information on the incident or the three men can call 818-374-7769.