This is an archived article and the information in the article may be outdated. Please look at the time stamp on the story to see when it was last updated.
Three people were arrested for the burglaries of multiple homes during open houses in Ladera Ranch, San Clemente and Anaheim in October, authorities said Thursday.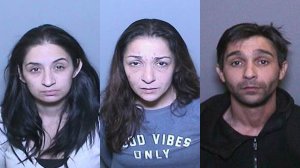 Nino Siganoff, 33, was accused of distracting real estate agents during open houses while Valerie Siganoff, 36, and Barbara Adams, 29, allegedly searched the homes.
All suspects were from Los Angeles, according  to a news release from the Orange County Sheriff's Department.
Authorities have tied the suspects to about $20,000 worth of stolen items, mostly pieces of jewelry, the statement said.
Officers arrested the suspects on Tuesday, finding stolen items and a ledger with a schedule of open houses in Orange, San Diego and Los Angeles counties, the Sheriff's Department statement said. The three were booked on suspicion of felony burglary.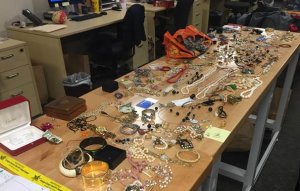 Some of the recovered items have been returned to their owners, but investigators believe there were more victims of the scheme.
The Sheriff's Department released images of items that have yet to be claimed.
Individuals who believe their homes were burglarized in the scheme can contact investigators at 949-206-6100. Anyone with information can submit an anonymous tip at 1-855-TIP-OCCS or online at occrimestoppers.org.