This is an archived article and the information in the article may be outdated. Please look at the time stamp on the story to see when it was last updated.

Warning: The video contains disturbing content, and viewer discretion is advised.
A fiery crash in South Los Angeles on Saturday evening left three dead and three others injured, officials said.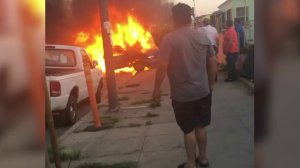 The two-vehicle collision happened near 744 W. 76th St. in Vermont Knolls just before 8 p.m., according to the Los Angeles Fire Department.
Both vehicles were "fully involved in fire" by the time crews arrived, the agency said. One vehicle was carrying five people and the other only had the driver inside, the Fire Department said.
Nora Castillo, who was at the site of the crash, provided KTLA footage showing several people gathering as screams are heard and flames engulf at least one car.
Witness Rosario Varajas told KTLA that the passengers inside at least one vehicle screamed for help as people on the street ran around, struggling to aid the victims.
An adult and two children, including an infant, were declared dead on the scene, the Fire Department said.
Two adults and a child were transported to a hospital and listed under critical condition, the agency said. At least two of them sustained burn injuries, according to the Fire Department.
Authorities did not provide further information, including what might have caused the collision.