This is an archived article and the information in the article may be outdated. Please look at the time stamp on the story to see when it was last updated.
Two men and two women were injured a shooting at a Wilmington party early Monday, officials said.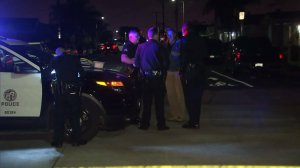 The incident was reported about 12:40 a.m. in the 1000 block of North McDonald Avenue, according to the Los Angeles Police Department.
Two women and a man were taken to a hospital by ambulance and another man later arrived at the hospital.
One woman victim was undergoing surgery after the shooting and the two men and the other female were in stable condition, Sgt. James Doull told KTLA.
He added that a small party was being held at a house in the area when a white sedan pulled up to the house when a male got out of the car, opened fire and drove off.
It is unclear if more people were in the car at the time and the motive is also unknown.
KTLA's Alberto Mendez contributed to this story.