This is an archived article and the information in the article may be outdated. Please look at the time stamp on the story to see when it was last updated.
One person died and seven others were hospitalized after being hit by lightning at Venice Beach on Sunday afternoon amid a rare series of summer thunderstorms in Southern California, according to the Los Angeles Fire Department.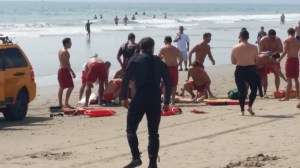 The strike occurred at about 2:50 p.m. in the 3500 block of South Ocean Front Walk (map), LAFD spokeswoman Katherine Main said.
A powerful bolt of lightning apparently hit the water near the pier, electrifying it and zapping swimmers and surfers who were in the area at the time.
"We were next to our carbon fibers board, so we got zapped pretty good, said Mace Camhe, who was in the water when the lightning hit.
Some also said they even felt the strike in the sand.
Witnesses told KTLA the lightning appeared very suddenly.
"Just out of nowhere, we heard all this lightning slap across the sky," Jermaine Roquemore said. "And it slammed down, just this big old strike…electrical current just hit the water."
Another witness, who would only identify herself as Jackie, said the lightning strike was followed by thunder that sounded like a "bomb."
Initially, the fire department said as many as three people had been hit by lightning and injured. The number was later revised to seven, and then increased to nine, but 13 were assessed at the scene.
Of those looked over at the beach, eight were taken to local hospitals, including one victim who was 15. One of the adults remained in critical  condition as of Sunday night, authorities said. The six other patients were reported to be in stable condition.
Camhe, who went back in to help rescue people after it being told the water was safe, described the chaotic scene that unfolded at the beach after the lightning hit.
"A couple people in the water, one they were doing CPR on, a local surfer around here that everybody knows. He didn't look too good," he said. "Another bodyboarder was laid out pretty good. We got cleared by the paramedics, and then my friend and I offered our assistance to search and rescue for the kid that drowned. He was in the water and got zapped."
A 20-year-old man who had been swimming or surfing  was initially reported to be missing after the strike and the confusion that followed. About an hour later, rescuers found and pulled him out of the ocean.
He was taken to a hospital in Marina del Rey where he later died, according to the Los Angeles County coroner's office.
The man's identity has not yet been released.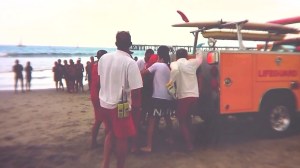 "Cloud to ground" lightning was reported  over Marina Del Rey and LAX, in the afternoon, according to the National Weather Service, which was also urging anyone who heard thunder in the area to stay indoors.
Earlier in the day, a man was injured after being hit by lightning in Catalina Island, according to the Los Angeles Times. The lightning strike ignited several brush fires and knocked out power to the area, the Times reported.
Lightning was also being blamed for a power outage in Redondo Beach that left about 300 hundred customers without service, according to Southern California Edison.
It was estimated power would be restored by 6:00 a.m. on Monday.
The weather service reported that scattered showers and isolated thunderstorms could possibly move from southern coastal waters to the entire region overnight into Monday.
Spotter reporting cloud to ground lightning over Marina Del Rey and LAX. Stay indoors if you hear thunder until it passes. #LAweather…

— NWS Los Angeles (@NWSLosAngeles) July 27, 2014
Lifeguard just drove passed giving CPR on man. Unsure of status. @Venice311 pic.twitter.com/wSXORBr3F3

— Katie Hawkins (@katiekhawkins) July 27, 2014
KTLA's Steve Bien and Feven Kiflegiorgis contributed to this report.
https://upload.facebook.com/ktla5/photos/a.440942949613.222741.72391084613/10152593270729614/?type=1