This is an archived article and the information in the article may be outdated. Please look at the time stamp on the story to see when it was last updated.
Three Sacramento-area sheriff's deputies were shot, two fatally, in a crime spree that also left a civilian seriously wounded and prompted an hourslong manhunt Friday for a gunman described as heavily armed.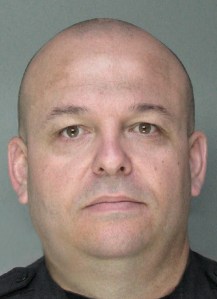 One officer was fatally shot in Sacramento, and one of two other deputies shot in neighboring Placer County was also killed, authorities said.
The slain Sacramento deputy, identified by at an afternoon news conference by Sacramento County Sheriff Scott Jones as 15-year veteran Danny Oliver, was shot in the forehead by the occupant of a "suspicious vehicle" as the deputy and his partner approached the automobile just before 10:30 a.m.
While Oliver's partner returned fire, the gunman fled and then attempted to carjack a vehicle nearby, shooting the driver in the head. That man's condition was not available, Jones said.
Another carjacking, of a Ford pickup truck, followed.
A "Blue Alert" was issued for a red 2002 Ford F150 truck with a Hispanic male driver and possible female passenger, CHP's headquarters announced. That truck was recovered, a spokeswoman for the Sacramento County Sheriff's Department said.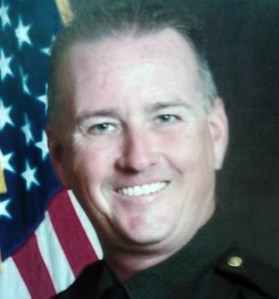 Some time later, two Placer County deputies were shot when the male suspect ran off, KTLA sister station KTXLreported. A Placer County Sheriff's Department spokeswoman confirmed before 4:30 p.m. that one of the deputies had died, while the other was shot in the arm.
The slain Placer County deputy was identified by Sheriff's officials as Michael David Davis Jr.
The father of four died exactly 26 years to the day that his father, Riverside County Sheriff's Deputy Michael David Davis, was killed in the line of duty, the department said in an evening news conference.
The elder Davis died in 1988 when his helicopter crashed during a narcotics task force operation, according to officials.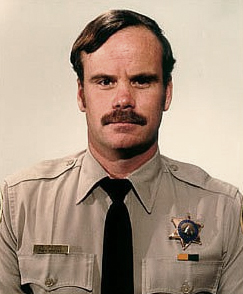 David Jr. would have turned 43 on Wednesday, according to KTXL.
"It's unbelievable that one of our deputies was killed by this guy on this crime spree today," the spokeswoman, Dena Irwin, told KTXL. "We're just insanely angry. How this can happen in one day — this guy can kill two cops and shoot an innocent civilian? It's unconscionable."
State, local and federal agencies worked to find the gunman, who was reported to be heavily armed, Jones said. He was in custody as of 4 p.m., multiple agencies announced.
He was identified as Marcelo Marquez, 34, the Los Angeles Times reported, citing Irwin.
A woman who had been with the gunman was also in custody, KTXL said.
The man was described as Hispanic and in his 30s with a short buzz-cut hairstyle, a Sacramento County Sheriff's Department spokeswoman said.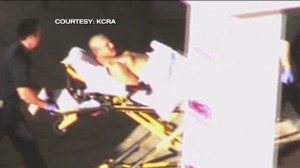 Photos on Twitter showed Placer County deputies pointing guns at drivers as authorities searched for the gunman in the Auburn area, and residents were advised to stay inside. Schools in the area were temporarily placed on lock down.
Oliver, 47, was survived by his wife and two daughters, according to a Sheriff's Department news release.
KTLA's Kennedy Ryan contributed to this article.
More Video: