This is an archived article and the information in the article may be outdated. Please look at the time stamp on the story to see when it was last updated.
Three Southern California beaches are among the 10 most polluted in the state, including one that has the dubious distinction of being at the bottom of the list, according to an annual report released Thursday.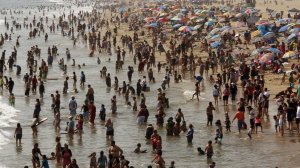 Heal the Bay's 28th annual Beach Report Card included the Beach Bummer List, which alerts beachgoers to coastal areas of elevated pollution and bacteria.
At the very bottom is Poche Beach in San Clemente, which the organization considers "the single most polluted beach in the state."
Also included in the list of the most polluted beaches is Santa Monica Pier and the harbor side of Cabrillo Beach in San Pedro.
The report stated that swimming at beaches with low water quality could result in illnesses such as stomach flu, ear infections, rashes and upper respiratory infections.
Still, Southern California's beaches have improved overall since last year's report due to a lack of rain, said Shelley Luce, Heal the Bay's president.
The majority of the 94 monitored beaches in Los Angeles County — 97 percent — received A or B grades, according to the report.
In Orange County, 94 percent of the 121 monitored beaches scored an A grade. And in Ventura, all of the 40 monitored beaches received perfect scores.
The reason that lack of rain helps beach conditions improve is because precipitation washes billions of gallons of bacteria—from pet waste to automotive fluids—onto the state's shoreline, according to the report.
Luce said that while the upcoming dry weather will help keep beaches cleaner, people can't be "complacent" and must always plan for rainy days.