This is an archived article and the information in the article may be outdated. Please look at the time stamp on the story to see when it was last updated.
Los Angeles police were looking for a man who fled in a pickup truck with North Carolina plates after another man was found dead in the parking lot of a well-known Hollywood restaurant Wednesday.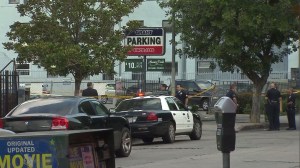 The body was found at 1727 N. Cherokee Ave., just north of Hollywood Boulevard (map), about 8:30 a.m.,according to Lt. John Jenal of the Los Angeles Police Department said at an early afternoon news conference near the scene.
The parking lot is used by the nearly century-old Hollywood institution Musso & Frank Grill, located around the corner on Hollywood Boulevard.
The victim was a Hispanic man about 28 or 29 years old, Officer Liliana Preciado said. He had been stabbed to death with a knife, she said.
Jenal later described the victim only as a man in his mid-20s.
Three people — possibly two men and a woman — fled the scene in a brown Ford F-150 pickup truck with North Carolina plates and black rims, LAPD Officer Tony Im said.
Jenal later said there was only one suspect, a black man in his mid-20s.
"My understanding — it was a dispute between these two individuals. It escalated into a stabbing, where the victim succumbed to his wounds," Jenal said.
The lieutenant did not know if there was any prior relationship between the victim and the killer. The argument between the two men occurred in the parking lot, he said.
The man was last seen fleeing southbound on Las Palmas Avenue and onto Hollywood Boulevard in the truck, which had North Carolina license plate No. CLJ5472, Jenal said.
The truck has a silver skull stick on it, according to police at the scene.
A vehicle matching the description of the truck was later reported abandoned by a tenant at a apartment complex on Camrose Avenue, near the Hollywood Bowl, less than a half-mile away from the stabbing scene.
"I saw that the right-hand side tires were blown out and it looked like somebody just parked it there in a big hurry and ran away," said Steve Menlo local resident.
Authorities responded, and the truck was towed away.
Police planned to seek surveillance video from neighborhood businesses, Jenal said.
KTLA's Jennifer Thang contributed to this article.
More videos: