This is an archived article and the information in the article may be outdated. Please look at the time stamp on the story to see when it was last updated.
Deputies were searching for three would-be robbers who engaged in a shootout with security guards outside a jewelry store in Walnut on Monday.
It happened around 4:30 p.m. at the Hing Wa Lee Jewelers store at 1569 Fairway Drive, according to the Los Angeles County Sheriff's Department.
The men were wearing masks and were armed when they confronted two armed security guards, authorities said.
When the would-be robbers pointed a rifle at the guards, the guards opened fire, according to LASD Capt. Jeff Scroggin.
"They were close. The guards were saying they heard the bullets flying .... close to their head," store owner David Lee said.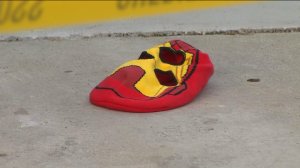 The guards did suffer minor injuries in the confrontation, but it did not appear that anyone was wounded by the gunfire, investigators said.
Lee told KTLA he saw surveillance video of the shootout and said the men took off their masks as they ran away.
The suspects drove off in a white Chevy Impala.
This wasn't the first time Lee's store has been robbed.
Last May, a man stole a $25,000 Rolex watch from the store.
Correction: An earlier version of this story incorrectly identified the type of firearm brandished by the assailants. It has been updated.