This is an archived article and the information in the article may be outdated. Please look at the time stamp on the story to see when it was last updated.
Three people were stabbed, 12 were arrested — including a juvenile — and one man was being sought after a "walking protest" involving the Ku Klux Klan turned violent as members of the group clashed with counterprotesters in Anaheim on Saturday, according to the local police department.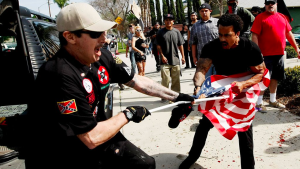 Violence erupted after six suspected members of the KKK arrived at the south side of Pearson Park, located at 400 North Harbor Blvd., for a planned "walking protest," an Anaheim Police Department news release stated.
About 30 counterprotesters immediately confronted the KKK members, police said.
During the melee, KKK members allegedly stabbed three counterprotesters, and two KKK members were "stomped on the ground" by counterprotesters, according to police.
Four people were hospitalized, including the three stabbing victims and one stomping victim, who was listed in stable condition.
One of the stabbing victims was initially transported to an area hospital and said to be in critical condition, but police later said he was stable. The two other stabbing victims were also in stable condition.
The other four people who had been stomped on had suffered minor injuries and "refused treatment," police said.
It was not clear who began the confrontation or what the victims were stabbed with.
"Even if the vast majority of our community disagrees with a particular group who visits our city, we cannot stop then from lawfully gathering to express their opinions," Anaheim Police Chief Raul Quezada said. "Violence is not acceptable, and we will arrest anybody who assaults another person or commits any other crime in our city."
Police initially said 13 people had been arrested, but on Saturday night said 12 were arrested — four of whom were later released — and one man was still being sought.
Five suspected KKK members — four males and one female — were initially arrested on suspicion of assault with a deadly weapon in connection to the stabbings. And seven counterprotesters — six males and one female — were initially arrested on suspicion of assault with force likely to cause great bodily injury.
One of those arrested was a male juvenile part of the group of counterprotesters, police said.
Police identified the seven adults who were arrested, including four on suspicion of assault with a deadly weapon: Charles Edward Donner, 51, of San Francisco; Marquis DeShawn Turner, 20, of Anaheim; Randy Omarcc Felder, 25, of Lakewood; and Guy Harris, a 19-year-old transient. All found were being held on $25,000 bail.
Three others who were arrested on suspicion of elder abuse were also identified: Nicole Rae Schop, 24, of L.A.; Mark Anthony Liddell, 26, of L.A.; and Hugo Contreras, 38, of Hawthorne. All three were being held in lieu of $50,000 bail.
Details on the elder abuse allegations were not provided by police.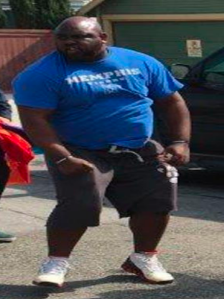 Police also released a picture of a man who was being sought on suspicion of assault with force likely to cause great bodily injury.
Cellphone video captured the two groups clashing, as dozens took to the street, screaming at one another while several people tussled.
"We came here for a peaceful protest — white lives matter — and we get jumped," said a KKK member with a shirt that read "Grand Dragon."
In the same cellphone video, a person not in view replied, "I think you had to expect something."
The same KKK member could be seen struggling over an American flag in a photo captured by the Los Angeles Times, which also reported he had been kicked by a counterprotester at one point.
Other Times photos captured blood smeared across the sidewalk and a counterprotester collapsed to the ground.
The injured protester could be seen with his dark-colored shirt hiked up, holding what appeared to be some tissue or gauze over the right side of his chest. Blood was visible on his clothing and on the ground next to where he was being treated for his wound.
He was crying out that he had been stabbed, according to the paper.
Police said they were on scene "immediately as the violence erupted."
"Accommodating peaceful, nonviolent demonstration and expression of speech is a priority of my department, and this planned rally was no exception," Quezada said.
The mayor concurred that people's right to peacefully demonstrate had to be protected.
"We will always honor free speech in Anaheim, but we vehemently reject hate and violent confrontation," Mayor Tom Tait said. "Anaheim is proud to draw strength from its diversity, tolerance and kindness, and Saturday's events run counter to that."
The Police Department believes "there were potentially dozens of individuals filming the incident," and asked anyone with photographs or video to contact CrimeStoppers by calling 855-TIP-OCCS or visiting www.occrimestoppers.org.
It was not known why the KKK chose Anaheim for Saturday's demonstration, but the group has had a sporadic presence in Orange County and a long history in the Anaheim area, the Times reported.
At one time, four of five Anaheim City Council seats were held by Klansmen before they were removed in 1924, and nearly 300 once lived in the area.
More recently, KKK business cards and anti-MLK propaganda was left in the front of dozens of Santa Ana homes in January 2015, and in July 2014 KKK recruitment flyers were distributed in the city of Orange.
A protester was stabbed at the site of a Ku Klux Klan rally in Anaheim on Saturday. (Credit: James Queally / Los Angeles Times)

A Ku Klux Klansman, left, struggles with a protester for an American flag after members of the KKK tried to start a "White Lives Matter" rally at Pearson Park in Anaheim on Feb. 27, 2016. Three people were treated at the scene for stab wounds, and 13 people were arrested. (Credit: Luis Sinco / Los Angeles Times)

Signs reading "White lives do matter. Leave our jobs for Americans," and, "Wake up White America. Your history is being hidden or erased," along with Confederate flags, were seen at a Ku Klux Klan event in Anaheim on Feb. 27, 2016. (Credit: KTLA)

Blood stained an Anaheim sidewalk and fire hydrant after a violent clash between Ku Klux Klan members and protesters on Feb. 27, 2016. (Credit: KTLA)

Protesters scuffle with a Ku Klux Klansman after members of the KKK tried to start a "White Lives Matter" rally at Pearson Park in Anaheim. The event quickly escalated into violence. (Credit: Luis Sinco / Los Angeles Times)

Thirteen people were arrested after a Ku Klux Klan "walking protest" turned violent in Anaheim on Feb. 27, 2016. (Credit: KTLA)

Three people were stabbed during a Ku Klux Klan rally in Anaheim on Feb. 27, 2016. (Credit: Heather Boucher)

A Ku Klux Klan rally turned violent, with three people being stabbed, in Anaheim on Feb. 27, 2016. (Credit: Heather Boucher)

Three people were stabbed during a Ku Klux Klan rally in Anaheim on Feb. 27, 2016. (Credit: Heather Boucher)

People leave the scene of a violent altercation between protesters and Ku Klux Klan members in Anaheim on Feb. 27, 2016 (Credit: Heather Boucher)

Protesters clashed during a Ku Klux Klan rally in Anaheim on Feb. 27, 2016. (Credit: Heather Boucher)