This is an archived article and the information in the article may be outdated. Please look at the time stamp on the story to see when it was last updated.
Three teen police cadets are in custody on suspicion of having stolen LAPD black-and-white patrol vehicles and they may have also impersonated police officers, Chief Charlie Beck said Thursday.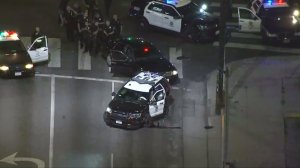 Investigators realized two cruisers were missing about 5 p.m. Wednesday, and immediately focused their suspicions on a 16-year-old female cadet assigned to 77th Street Division, Beck said.
At 9:30 p.m., the two missing vehicles were located, being driven in tandem within the station's patrol area. The drivers refused to pull over for police, Beck said.
A chase began, with the vehicles ultimately going different directions. Both vehicles crashed and the occupants were taken into custody – the two drivers and a passenger.
One of the stolen vehicles crashed into an unrelated driver, Beck said.
Beck revealed Thursday that those in custody were all cadets, ages 15, 16, and 17. Their names are not being released because they're juveniles.
They were booked on suspicion of charges related to the theft of the vehicles and "other property."
During an inventory of the 1,800 black-and-whites owned by the Los Angeles Police Department, one more vehicle was discovered missing, the chief said. That was soon tied to the cadet suspects, and interviews with them led to the discovery of the vehicles near 76th Street and Central Avenue.
The cadets may have impersonated police officers, Beck said, asking for the public's help.
"We would like anybody that has information about that kind of activity being conducting by very young-appearing male and female partners to call the Los Angeles Police Department," Beck said.
Such incidents might have occurred in the south or central parts of L.A. or areas to the west, such as Inglewood, he said.
No police firearms were missing, Beck said, but investigators recovered two LAPD Tasers, two police radios and an expired bullet-resistant training vest, which was being worn by one cadet.
The cadets were familiar with tracking systems and were able to sign the vehicles out of an automated vehicle inventory system, logging in as a vacationing sergeant, Beck said.
"The cadets were sophisticated enough to sign these cars out … not in their own names, but in the names of police officers who had a right and  a responsibility to use these cars," Beck said. "They gamed that system."
It's unclear how long they had the vehicles, but one may have been out for two weeks, Beck said.
"We do daily inventories of equipment. It obviously didn't work in this case," the chief said.
However, a watch commander did notice a vehicle missing and came across a video showing a "young-appearing female" fueling up at an LAPD gas pump, Beck said.
There are more than 2,300 active cadets, many of whom come from "difficult" neighborhoods and are seeking mentorship and increased opportunity, the chief said. The cadet program will be completely reviewed, as will equipment management systems.
"We're very proud of our cadet program and I don't want the actions of these three individuals to reflect negatively on the other 2,300," Beck said.
He said the investigation is in its preliminary stages and many interviews still need to be conducted.