This is an archived article and the information in the article may be outdated. Please look at the time stamp on the story to see when it was last updated.
Two men and a teen boy were found dead Tuesday in June Lake, in the Eastern Sierra north of Mammoth Lakes, following a four-day search after their boat capsized while on a family vacation.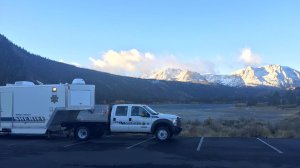 Tehachapi residents Doug Langston, 46, Caleb Johnson, 21, and Jacob Langston, 14, were found near the middle of the lake near 11:30 a.m. and their bodies were successfully recovered by divers, according to the Mono County Sheriff's Office.
Their relatives Caleb Crouch and John Langston, both 22, had also been on the trip but were able to swim to shore and alert authorities.
The family had gone into June Lake in their personal boat on Saturday, deputies said. Strong winds blowing from the west that day made the water very choppy, and none of the men were wearing life jackets, according to authorities.
Around 10 a.m. the boat began taking on water, capsized and sank, officials said.
Deputies immediately began their search operation, which expanded to include nine agencies by Tuesday. Family members had already assembled in June Lake awaiting news of their loved ones when the men were found.
"The community of June Lake and all of Mono County truly wrapped their arms around the families and the first responders and took great care of us during this tragedy," the Mono County Sheriff's Office wrote on its Facebook page. "The families expressed repeatedly how loved and cared for they felt."