This is an archived article and the information in the article may be outdated. Please look at the time stamp on the story to see when it was last updated.
Police took a man into custody Monday after he drove his vehicle into a crowd, hitting three UCLA staff members who were taking part in a state-wide strike by University of California service workers, university police said.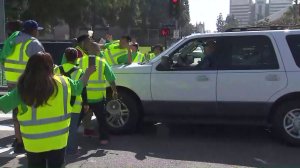 The three victims of the traffic collision were treated for minor injuries at the scene and released, said Lt. Kevin Kilgore from the UCLA police department.
The driver was taken into custody and transported to UCLA Ronald Reagan Medical Center for evaluation before being taken to the UCLA Police Department, Kilgore said.
"Initially folks were upset and were trying to get the driver to stop," Kilgore said. "There was a quick resolution after first responders came to the scene."
Read the full story on LATimes.com.