This is an archived article and the information in the article may be outdated. Please look at the time stamp on the story to see when it was last updated.
A man who was captured on surveillance footage fleeing from a burning vehicle in which three bodies were found was being sought Tuesday, according to Orange police.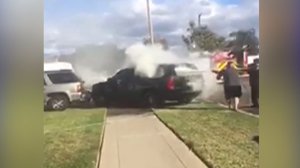 The three badly burned bodies were discovered as firefighters doused the flames coming from the SUV in the 500 block of East Oakmont Avenue around 2:20 p.m. Monday, according to Orange Police Department Sgt. Phil McMullin.
Surveillance footage, which was not being released, showed a man running from the vehicle, police Lt. Fred Lopez said the following day.
The man was believed to be the driver of the burned SUV.
"We do not have him identified, we do not have a clothing description, so we are still looking to identify that driver," Lopez said.
Firefighters and police first responded to the location after receiving a report of a vehicle fire, according to McMullin.
A charred, black GMC Yukon was stopped partially on a lawn and in the driveway of a yellow single-story residence, Sky5 video showed.
A man who lives at the home told KTLA he heard a popping noise and then discovered the fully engulfed SUV jumping the curb. The resident, who did not want to be identified, said he and his son grabbed a garden hose and fire extinguishers to put the blaze out.
He said he saw the bodies inside as the two tried to extinguish the flames.
Investigators were initially unsure of the gender of the victims because the bodies were so badly burned, but coroner's officials on Tuesday confirmed all three were male victims.
"Once the fire was out, due to the condition of the car and the bodies, we weren't able to determine whether they were male or female," Lopez said at the scene.
The Orange County Coroner Division, which released the new information, did not immediately have names or ages for the victims.
It was not known whether they were killed in the blaze, or whether they were deceased before the fire.
"That's something we're trying to investigate. We don't know if the fire is related to their death, if they already were deceased before the car fire," Lopez said.
An investigation was also underway into what sparked the flames.
"We don't know where the fire fits in to all of this — if it was as a result of the accident, or it was an intentional act," the lieutenant said Monday.
Authorities were also still trying to figure out who owned the SUV.
KTLA's Ashley Soley-Cerro contributed to this report. 
More Video: