This is an archived article and the information in the article may be outdated. Please look at the time stamp on the story to see when it was last updated.
Three people were wounded Saturday evening, two of them critically, in an apparent car-to-car shooting on a surface street in Harbor City, authorities said.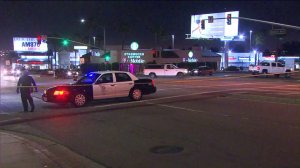 The incident occurred shortly after 7:30 p.m. in the northbound lanes of Western Avenue at Palos Verdes Drive, according to police and fire officials.
Firefighter-paramedics responded to a report of a crash at the intersection, where they arrived to find three patients suffering from gunshot wounds, said Supervisor Ed Pickett of the Los Angeles County Fire Department.
Two of the injured were transported to trauma centers in critical condition, said Capt. Michael Oreb of the LAPD's Harbor Division, while the third person was hospitalized in unknown condition.
The captain did not immediately know the age and gender of the victims.
Los Angeles County Sheriff's Department deputies initially responded to the shooting, which involved at least two vehicles, according to Oreb. The case was turned over to the Los Angeles Police Department when it became clear that the incident took place within Harbor City proper.
No weapons had been recovered, Oreb told reporters at the scene, adding that the vehicles involved were still being searched by investigators.
Asked about a possible motive for the shooting, the captain replied: "At this time I believe it's going to be gang-related."