This is an archived article and the information in the article may be outdated. Please look at the time stamp on the story to see when it was last updated.
[protected-iframe id="ab86f36db07bd47e2f460ea7a85965bc-41641936-52137988″ info="http://KVVU.images.worldnow.com/interface/js/WNVideo.js?rnd=584150;hostDomain=www.fox5vegas.com;playerWidth=630;playerHeight=385;isShowIcon=true;clipId=11696578;flvUri=;partnerclipid=;adTag=Video%2520Player;advertisingZone=;enableAds=true;landingPage=;islandingPageoverride=false;playerType=STANDARD_EMBEDDEDscript;controlsType=fixed" ]
A 3-year-old girl died over the weekend after falling from a walkway at an Embassy Suites hotel in Anaheim, where she and her family visited Disneyland, officials and a family member said.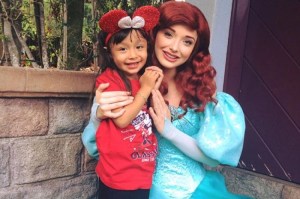 The little girl, identified Monday as Stephanie Martinez of Las Vegas, fell just after 6:30 p.m. Saturday at the hotel located at 3100 East Frontera Street (map), according to an Orange County coroner's office news release.
The fall was from a fifth-floor corridor walkway, the Orange County Register reported.
"It appears to be a very tragic accident," Eric Trapp, a spokesman with the Anaheim Police Department told the newspaper.
Martinez was taken to UCI Medical Center, where she was pronounced dead just before 7 p.m, the coroner's office stated.
The incident occurred during a family vacation that included a visit to Disneyland, the girl's cousin, Eddie Fraire, told KVVU.
After taking a shower in their hotel room, Stephanie's mother walked out of the bathroom and saw the child on the edge of a balcony, Fraire said in an interview.
"Her mom came out to check up on her," he said. "She saw her hanging off the rails. She screamed, so the little girl got scared and fell down from the fifth floor."
According to Fraire, he and Stephanie's father were downstairs at the time and witnessed the fall. They rushed toward the child in an attempt to catch her but were unable to do so in time, Fraire said.
A GoFundMe page has been created to help raise money for Stephanie's funeral expenses.