This is an archived article and the information in the article may be outdated. Please look at the time stamp on the story to see when it was last updated.
Three people in their 20s were killed and a fourth was hospitalized early Tuesday morning when their car crashed in Arcadia while they were headed to celebrate the birthday of one of the vehicle's occupants.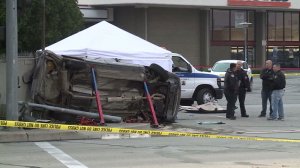 The rollover crash occurred in the area of Live Oak and Welland avenues around 2 a.m., according to the Arcadia Police Department.
The car was headed westbound when it appeared "the vehicle lost control and left the roadway," Arcadia Sgt. Jeremy Lachenmeyer said at the crash site during a morning news conference.
The victims have been identified as 21-year-old Pomona resident Raymond Daniel Yniquez, 21-year-old El Monte resident Marcus Garcia and 25-year-old Los Angeles resident Anna Velazquez, according to the L.A. County coroner's office. And a woman said her son, Marcus Garcia, 21, was also killed.
Video from the scene showed the overturned car on its side next to a damaged brick wall. The vehicle had apparently hit a light pole.
Three people, two men and a woman, were pronounced dead at the scene. Lachenmeyer identified the deceased as the driver and two passengers.
A third passenger, a man, was rushed to the hospital in critical condition, authorities said. Garcia's family said his name was Ryan Hernandez.
By night, the hospitalized man was in stable condition, according to family and friends.
Speed was believed to have been a factor in the crash, according to Lachenmeyer.
"It's horrible. Three lives lost all because of speed," he said.
The group was headed to the female passenger's home to celebrate her 25th birthday when the crash occurred, according to Jeff Salazar, who is friends with three of the victims. The driver had just left work, he added.
Friends of the victims were traveling behind the car and witnessed it roll over several times, according to Salazar. One person inside the trailing car called him to let him know what happened.
"I already knew right off the bat just from my best friend's voice, I just hear it. He just told me, 'Just get down here, it's bad,'" Salazar said.
Elizabeth Quinn identified her son, Garcia, as one of the victims. She told KTLA he was her everything.
"The only thing I can say, you know, I put him in God's hand. That's it," Quinn said.
She described Garcia as a "great person" who was funny and loving with everyone. He would have turned 22 in three weeks, she said.
His sister, Miranda Jaramillo, said she was at first in disbelief when she heard the news.
"I got up right away and I … rushed to where he was at, because I wanted to see for myself if it was true," she told KTLA.
Hundreds attended a vigil Tuesday night to mourn the three lives lost and pray for the recovery of the fourth passenger. It was an emotional event, with one attendee being treated by paramedics for hyperventilation, witnesses said.
"On the hour every hour I've been breaking down. And it's good to be loved so much and it's good that Marcus was loved so much," Garcia's stepfather Kieran Quinn said.
Garcia's father, Jerome Garcia, told KTLA he first learned of the crash on TV.
"I was still praying for whoever was involved with it, until my daughter Meranda ended up phoning me on the info," he said. "And then I just dropped to the ground, literally."
Family and friends of Marcus Garcia have set up a GoFundMe page to help pay for burial costs.
The crash remains under investigation.
Garcia's family said they thought speed may have been involved, as his parents had gifted him the car he was driving a few weeks ago as an early birthday present.
KTLA's Melissa Pamer and Erika Martin contributed to this article.