This is an archived article and the information in the article may be outdated. Please look at the time stamp on the story to see when it was last updated.
One day after being found dead with stab wounds inside a vehicle in South L.A., three boys who were allegedly killed by their father were identified by authorities on Thursday.
The slain children were 10-year-old Luis Alfanso Fuentes, 9-year-old Juan Daniel Fuentes and 8-year-old Alexander Fuentes, according to Ed Winter of the Los Angeles County coroner's office.
Their bodies were discovered inside a parked SUV in the 300 block of East 32nd Street in the Historic South-Central neighborhood at approximately 6:49 a.m. on Wednesday, according to the Los Angeles Police Department.
A local businessman, John Sorrentino, founds the boys — who were initially reported to be between the ages of 8 and 12 by LAPD — and described the scene as a "pretty difficult sight."
Sorrentino told KTLA the one boy he saw face to face "had blood all over him."
A fourth occupant of the vehicle, who has been identified as the boys' father, was found with stab wounds in the front of the SUV. He was last reported to be hospitalized in stable condition.
LAPD Officer Matthew Ludwig said the father was suspected in the killings.
He was in custody, but had not been booked as of Wednesday evening, according to LAPD Officer Liliana Preciado.
Police have not released the man's name yet, but relatives identified him as Luis Fuentes.
He was unemployed and living in the SUV with his sons, according to Bishop Juan Carlos Mendez, a local pastor.
The boys, whose biological mother died several years ago, lived with their father, stepmother and a younger sibling until recently, according to family members.
The stepmother was at work when the killings occurred, while the youngest child was in daycare, according to police.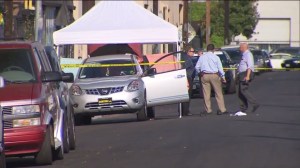 At a vigil for the children Wednesday night, grief-stricken family members erected a memorial for the boys, placing candles, toys and pictures at the site where their bodies were found earlier in the day.
They also attempted to comfort one another.
"What can prepare you for three little kids that you spent every Christmas with … being killed that way," said Rene Chanquin, the boys' cousin.
Chanquin has set up a GoFundMe page for the Fuentes children. The money raised through the donation page would go to help pay for the family's funeral and burial costs.
"The three boys had their whole lives ahead of them and were like any child their age, playful and happy," Chanquin wrote. "We will miss them so very much and it hurts us to know … they will never live to see another Christmas or celebrate another birthday."
KTLA's Feven Kiflegiorgis contributed to this story.