This is an archived article and the information in the article may be outdated. Please look at the time stamp on the story to see when it was last updated.
Authorities on Wednesday offered a $30,000 reward for information in the 2017 shooting death of two teenagers in Lancaster.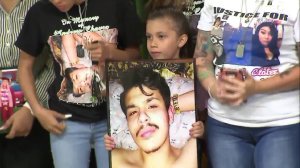 Andrew Chavez, 18, and Clotee Reyes, 19, were speaking to friends outside a party in the 43000 block of Sixth Street East on Sept. 20 when the incident happened, according to the Los Angeles County Sheriff's Department.
The agency said gunshots were fired from a northbound black car into the crowd at around 1:46 a.m., fatally wounding the victims. The driver of the vehicle fled the incident.
The victims' family members sought the public's help identifying the person or people responsible at a Wednesday news conference announcing the combined reward for any information leading to an arrest and conviction.
"They didn't just kill one person," said Shawna Donahue, Chavez's mother. "They killed two families. Two families are gone."
Authorities described Chavez as a "big brother" who had just started working at a job he loved. Reyes was about to go to school to become a dental assistant, the Sheriff's Department said.
Officials said some 50 people attended the party, but possible witnesses had been reluctant to speak out.
Investigators suspected some might have been involved in an incident prior to the shooting. The agency said it's confident someone has critical information who has not come forward yet.
Anyone with information can call the Sheriff's Department's homicide bureau at 323-890-5500. Those who wish to remain anonymous can contact Crime Stoppers by calling 800-222-TIPS (8477), using the mobile app "P3 Tips" or visiting lacrimestoppers.org.