This is an archived article and the information in the article may be outdated. Please look at the time stamp on the story to see when it was last updated.
Homicide detectives were investigating the death of a man found in the area of a raging wildfire that grew to more than 30 square miles east of Santa Clarita on Saturday.
A day and a half after it began, the Sand Fire had burned an unknown number of structures, prompted evacuation orders affecting some 1,500 homes, and spread smoke and ash across much of Southern California.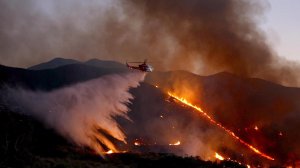 Los Angeles County Sheriff's Department Sheriff's Lt. Rob Hahnline confirmed to KTLA Saturday evening that deputies were investigating a report of a burned body found on North Iron Canyon Road, which is in the fire evacuation area.
A man who had been separated from his significant other at the home the pair share on North Iron Canyon Road was found dead in a burned car, his neighbor told KTLA. The home burned down, said the neighbor, who did not know the fate of her own house.
Sheriff's Department officials informed the man's partner that her significant other was found dead, the neighbor said.
The Sheriff's Department said in a brief statement that homicide detectives were responding at 7:20 p.m. to the death of a man who was found deceased in the 26700 block of Iron Canyon Road. No other information was available.
Meanwhile, firefighters were working to assess damage caused by the wildfire.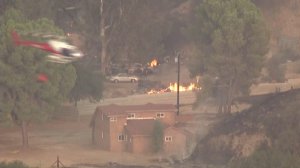 "We are aware that there are structures that have been destroyed or damaged in the Bear Divide and Sand Canyon areas; however, we cannot confirm any particular properties," the Los Angeles County Fire Department said on Facebook Saturday evening.
Three helicopters were set to work the wildfire overnight.
The Sand Fire broke out about 2:10 p.m. Friday along the northbound side of the 14 Freeway near Sand Canyon Road and burned 3,327 acres within eight hours.
By the following morning, it had grown to an estimated 5,500 acres, the Fire Department said. Hours later, the fire had exploded to 11,000 acres, and was 10 percent contained, the department tweeted.
By 6:15 p.m., it was at 20,000 acres and still 10 percent contained, the Angeles National Forest Twitter account said.
"Extreme fire behavior" was expected through midnight Saturday, the National Weather Service said. A red-flag warning was extended through 10 p.m. Sunday, and gusts of up to 35 mph were predicted.
The fast-growing fire prompted evacuations, including a mandatory one in unincorporated Little Tujunga Canyon. The order impacted residents from Bear Divide to the Los Angeles River Ranger Station.
A new order was issued about 3:45 p.m. for Sand Canyon area from Lost Canyon Road to Bear Divide, and in Placerita Canyon from the Nature Center to Sand Canyon.
Voluntary evacuation orders were in place from Gold Creek to Camps 16.
About 1,500 homes were in the evacuation area, the Sheriff's Department said on Facebook early Saturday evening. The Fire Department at one point said 1,500 homes were "threatened," but later removed that language from its incident page.
One structure was destroyed in the blaze, U.S. Forest Service spokesman Nathan Judy confirmed early in the day Saturday. He was unsure whether the building was a home or some other structure.
At least one other structure appeared to be burning around 6:30 p.m., aerial video from Sky5 showed.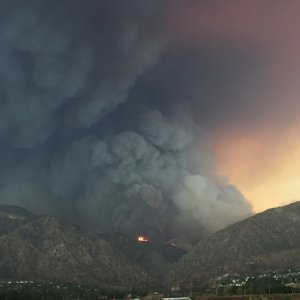 "The concern for today is that the fire is still pushing toward the front country, and we have residences in those areas," Judy said. "So with the fire pushing in that direction, our concern is … keeping it out of where the residents are, and making sure we can attack it safely."
The combination of high heat and high winds were creating extreme conditions for firefighters, who were working in difficult terrain, according to Justin Correll of the U.S. Forest Service.
An evacuation shelter has been set up at Hart High School, 24825 N. Newhall Ave. in Santa Clarita.
Residents were asked to take large animals to the Pitchess Detention Center (Jack Bones Equestrian Center) on The Old Road in Castaic.
Meanwhile, evacuations for Kagel Canyon were rescinded overnight, and the evacuation order from Soledad Canyon at the 14 Freeway to Aqua Dulce Canyon Road was lifted, the Fire Department tweeted.
A number of road closures were also in effect.
ROAD CLOSURES for #SandFire #LASD #SCV @LACoFDPIO pic.twitter.com/QrAQDHYTuV

— SCV Sheriff (@SCVSHERIFF) July 24, 2016
More than 900 firefighters continued to battle the blaze, which is being fueled by brush and chaparral in steep terrain.
"The fire is burning in multiple different directions," Judy told CNN. "To the east, it is burning more into the forest and uninhabited areas and to the west is our main concern because [the winds] might make it push down to the flat country. That's where we have structures and residents."
The county Fire Department was in unified command with the Forest Service, the InciWeb page stated.
Fire crews were facing extreme heat that was expected to reach 106 degrees, according to InciWeb. A record high of 108 degrees was set Saturday in nearby Palmdale, the National Weather Service said.
The brush fire prompted the South Coast Air Quality Management District to issue a smoke advisory for a number of areas where air quality could reach unhealthy levels, including central Los Angeles, parts of the Santa Clarita, San Fernando and San Gabriel valleys, and in the Pomona/Walnut area.
Smoke was headed in a southeast direction, while ash was raining down in portions of the San Fernando and San Gabriel valleys, and in central Los Angeles.
Residents seeking info on the Sand Fire can call the information hotline at 626-574-5208.
The Sand Fire started about 27 miles north-northeast of downtown Los Angeles.
KTLA's Geoff Peters and Feven Kiflegiorgis contributed to this story. 
https://twitter.com/chelleypoox3/status/756994779334971392
[googlemaps https://www.google.com/maps/d/embed?mid=1Klsy8DAI-eNKT91I-UA5nrMfB58&w=640&h=480]