This is an archived article and the information in the article may be outdated. Please look at the time stamp on the story to see when it was last updated.
Police arrested 35 demonstrators Thursday in downtown Los Angeles during a protest over recent actions by U.S. Immigration and Customs Enforcement agents, officials said.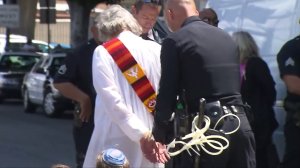 The demonstrators were cited for refusing to comply with police commands after blocking the entry into Metropolitan Detention Center, at 535 Alameda St., said Officer Irma Mota, a spokeswoman for the Los Angeles Police Department. They were later released.
Clergy members and civil rights activists were among those arrested in the march, according to Clergy and Laity United for Economic Justice, an interfaith and worker rights organization.
Organizers called the protest "An Interfaith Day of Prophetic Action" and said it was inspired by religious events this Holy Week and enforcement actions by federal authorities.
Read the full story on LATimes.com.