This is an archived article and the information in the article may be outdated. Please look at the time stamp on the story to see when it was last updated.
By the morning of third day of the year's first El Niño storm, mountains were blanketed with snow, prompting celebration among skiers and snowboarders, but concern for motorists.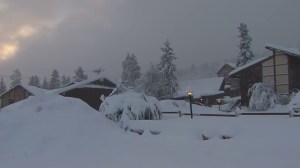 Some 30 inches of snow had been dumped in Big Bear in the past 48 hours, local officials said, and up to 28 inches was recorded in Mountain High, according to the National Weather Service.
Sports lovers took to the slopes during the three-day weather event, and Mountain High tweeted that its eastern trails may open on Friday.
Big Bear's conditions were "the best we've had in years," said Miles Fulton, who lives in the area and works at Snow Summit.
The weather also prompted concerns, however, and the weather service urged drivers to avoid traveling over mountains and flooded roads, and to check weather reports before heading out.
Snow was expected to fall as low as 3,500 feet on Thursday, and 2 to 6 inches of additional snow was possible in Los Angeles and Ventura counties.
In Big Bear, several vehicles were almost completely covered with powder, and a KTLA van became stuck after its tire chains broke in the early morning hours.
Especially hazardous driving conditions were expected on the 5 Freeway, and State Routes 14, 2 and 39.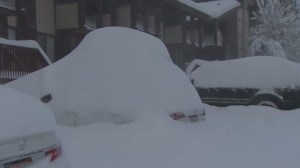 Anyone traveling through snow should have an emergency kit complete with a flashlight, food, water, extra clothing, blankets and tire chains, the weather service stated.
Heavy rainfall also showered much of Southern California early Thursday morning, ahead of the morning commute, according to the weather service.
More than 2 inches was recorded in much of the area in the past two days, with the San Gabriel dam topping off at 6.38 inches.
Bel Air, South Gate, Newhall and Ventura were among dozens of communities that got more than 3 inches.
The rain was expected to taper off after around noon Thursday, and mostly stay away Friday before making its return over the weekend, said KTLA meteorologist Henry DiCarlo.
A flash-flood watch was also scheduled to remain in effect for burn areas until noon.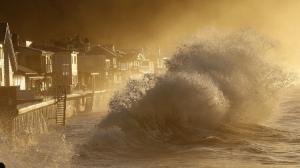 This included the Solimar Fire, where a squall line, or area of active thunderstorms, arrived by 4:15 a.m. The fire broke out Christmas day and burned more than 1,230 acres northwest of Ventura.
A squall line also moved over the Springs Fire burn area -- where more than 24,000 acres in Camarillo burned in 2013 -- beginning around 5 a.m. Hourly rainfall was not expected to surpass .25 inches, and minor debris flow was anticipated.
The powerful storm brought "large and dangerous surf" conditions to beaches across Southern California, and swimmers and surfers were urged not to get too close to the water.
All L.A. County beaches were closed Thursday through Friday due to storm runoff, the Los Angeles County Department of Public Health told the Los Angeles Times.