This is an archived article and the information in the article may be outdated. Please look at the time stamp on the story to see when it was last updated.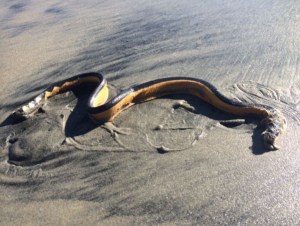 The third venomous sea snake to wash up on Southern California shores in recent weeks appeared this week in Coronado, the city said Wednesday.
The 3-foot-long snake died shortly after it was placed in a bucket by lifeguards on Tuesday afternoon, the city said in a news release.
The yellow-bellied sea snake, normally found in tropical waters, was spotted at Dog Beach near Naval Air Station North Island. Local snake experts confirmed the species, the Coronado release said.
The discovery comes after the first such snake to appear in the region in 30 years was spotted in Oxnard in mid-October.  Then, another individual from the "highly venomous" species was found Dec. 12 at Bolsa Chica State Beach in Huntington Beach.
The three findings occurred within a distance that spans some 150 miles. The appearance of the rare animals — which normally spend their entire lives at sea — is a sign of the warming waters of El Niño, scientists have said.
The Coronado snake will be given to the Scripps Institution of Oceanography, according to the city. The other two were delivered to the Museum of Natural History of Los Angeles.
Though the species is highly venomous, its venom is used on prey and "no human deaths have been reported," the Coronado release said.