This is an archived article and the information in the article may be outdated. Please look at the time stamp on the story to see when it was last updated.
Four people have been arrested in connection with allegedly stealing more than $100,000 worth of equipment and property in the Fontana area, police announced Wednesday.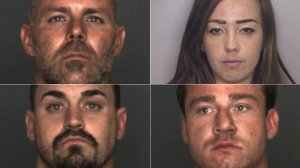 An investigation began about 6 a.m. Tuesday when officials at a business called Tec Equipment reported a burglary.
Responding investigators with the Fontana Police Department discovered that construction equipment, including a black Ford Ranger with business decals on it, had been stolen.
The suspects apparently also used a forklift from the business to load the stolen items into a U-Haul truck, police said.
Investigators were able to track one of the stolen items to a storage facility in Bloomington, where undercover officers set up surveillance.
Four people were seen arriving at the location with the stolen vehicle. They went inside the storage unit that was "jam packed with suspected stolen equipment," police said. The suspects stayed in the unit for some time and apparently used a saw to try and open a safe that was stolen from the business.
The suspects then got into their cars and left the area, but were met by marked units who were waiting for them outside, police said.
The four suspects were eventually taken into custody after a short pursuit.
They were identified as: Crystal Conant, 25 of Colton, Jason Bissell, 34, of Fontana, Jesse Graham 37, of Fontana and Jordan Kory, 31, of Bloomington.
Police found what they believe is more than $100,000 worth of stolen items and believe the loot was part of a large commercial burglary ring targeting people in surrounding cities.
Some of the property and equipment was returned to business owners on Tuesday.
"I wasn't expecting to get these back," said one man as he was picking up his recovered property. "I thought they were long gone. It's been five months."
Fontana police hope to find the rightful owners of the stolen goods and anyone with information can call authorities at 909-350-7700.
Detectives in #Fontana bust huge stolen property ring. Four arrests. Next up: finding the rightful owners. #theIE @FontanaPD @KTLA pic.twitter.com/DqYCsza0YZ

— Dave Mecham (@DaveMechamTime) April 4, 2018