This is an archived article and the information in the article may be outdated. Please look at the time stamp on the story to see when it was last updated.
Officers arrested four individuals Tuesday in Riverside after a resident reported seeing people stealing mail in the Victoria neighborhood, authorities said.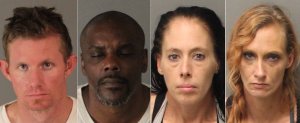 Upland resident Jessica Black, 37, and Moreno Valley residents Reginald Young, 45, Chadwick Clark, 29, and Jennifer Durivege, 34, were all detained on suspicion of identity and mail theft, possession of stolen property and conspiracy to commit a crime, according to a post on the Riverside Police Department's Facebook page.
The suspicious activity along the 5400 block of Glenhaven Avenue was first reported around noon, officers said.
Although the suspects immediately left the area, based on the description given police were able to locate the suspects' vehicle heading toward Moreno Valley at Alessandro Boulevard and Gem Street, officials said.
Once officers made contact with the four individuals in the vehicle, they discovered the driver had an outstanding warrant for his arrest, according to the statement. Numerous documents and items to facilitate identity theft were also found in the vehicle, police said.