This is an archived article and the information in the article may be outdated. Please look at the time stamp on the story to see when it was last updated.
The bodies of four people found inside a Mission Viejo home on Tuesday were believed to be the victims of a murder-suicide.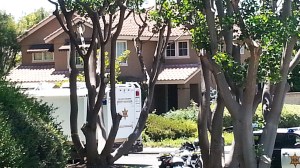 The discovery was made at a home in the 25600 block of Pacific Hills Drive (map), the Orange County Sheriff's Department stated in a tweet.
Authorities responded to the location after receiving a call from a family member requesting a welfare check at the residence about 9 a.m., according to the Sheriff's Department.
Two male victims and two female victims were found inside the home, Lt. Jeff Hallock of the Sheriff's Department said. "At this point in the investigation, investigators believe it is an apparent murder-suicide."
The victims were not officially identified, but neighbors said the four people who lived at the home were members of the Sheer family.
Mark Sheer was a financial services consultant and took part in prison ministries, according to the pastor at Mount of Olives church where the family was very active.
"We're just as shocked as everyone else," said pastor John Steward.
"From our observation they were very caring and loving… and they supported each other," Steward said.
A service was held Tuesday night at the church for the family.
Sheer lived at the home with his wife Lydia and their two children, Amy, a freshman in high school and Michael who was in his 20's, neighbors said.
The circumstances around the deaths were under investigation.
"The preliminary investigation is dictating that the community is not in danger and there are no outstanding suspects," Hallock said.
Crime scene tape closed access to the road in front of the home while authorities investigated.