This is an archived article and the information in the article may be outdated. Please look at the time stamp on the story to see when it was last updated.
Four children were hospitalized in critical condition Tuesday morning after being rescued from a burning home in the Vermont Knolls neighborhood of South Los Angeles.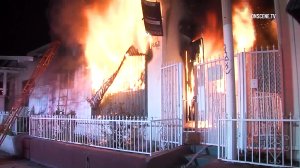 Firefighters found the front of the home in the 800 block of West Manchester Avenue heavily involved with flames when they arrived about 10:51 p.m., Los Angeles Fire Department spokesman Brian Humphrey said. Officials said the fire ripped through the 400 square-foot bungalow at a rapid pace.
Bystanders told firefighters people were trapped inside the home, which is mostly secured with bars and steel screen doors, Humphrey said.
A firefighter found an un-barred window at the back of the home and climbed through.
Once inside, the firefighter found three boys — ages 2, 3 and 5 — and a 7-year-old girl, Humphrey said.
The children had been in the home alone and were huddled in a bedroom when firefighters arrived. One child was nearly lifeless, officials told KTLA. The children were badly burned and had suffered from smoke inhalation.
The firefighter handed the children to two colleagues waiting outside, where the kids were treated by paramedics, Humphrey said.
Investigators believe the mother was out on an errand when the fire started. She returned and watched as paramedics cared for the severely burned children, Humphrey said.
"It's just a shame that you would leave those babies in the house like that," said one woman who came to the scene. "What errand was that important at 11 o'clock to leave the kids in the house. It's just sad."
The kids were then transported to a local hospital in critical condition.
The firefighter who rescued the children got out of the home uninjured, Humphrey said.
About 90 firefighters put out the blaze in just over 15 minutes.
There was a smoke detector inside the home at the time of the fire, but fire officials said it melted and they have no way of determining if it was working when the fire started.
Officials said there was no electricity in the house, so it's unclear what started the fire.