This is an archived article and the information in the article may be outdated. Please look at the time stamp on the story to see when it was last updated.
A coyote attacked a 6-year-old boy in an Irvine park, dragging him several feet before his father intervened and scared the animal off, a state wildlife official said Thursday.
The incident, which left the boy with puncture wounds, was reported Sunday evening at Springbrook Park in the Woodbridge community.
Since then, four coyotes have been trapped and euthanized, California Department of Fish and Wildlife Capt. Rebecca Hartman said at a news conference.
The Sunday incident marked the third bite by a coyote in the last few months in the neighborhood, Hartman said. No one has been hospitalized, but two victims required first aid for bite wounds and were recommended to get rabies treatment, according Kim Mohr, a spokeswoman with the Irvine Police Department.
On Sunday, the coyote bit the boy on the arm and dragged him about 3 feet, his father told authorities.
"That had to be very upsetting," Hartman said. "I'm just glad that he was there and was a vigilant father who was paying attention to the situation and scared off the animal before it turned into something else."
The coyote was relentless and kept circling the father as he clung onto his 6-year-old son.  Neighbor Haseena Habibi said she heard someone screaming and noticed the coyote beginning to approach a small toddler. She immediately jumped into action.
"I didn't have anything to hit it with so I threw my shoes," Habibi said.
She also grabbed sand and started to throw it in the coyote's face until it ran away.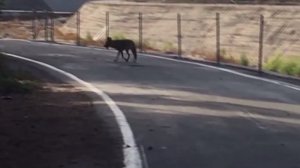 About two blocks from Springbrook Park, a KTLA viewer recorded cellphone video of a coyote running directly up to him as he walked his small dog on Oct. 6, three days before the boy was attacked.
"I just grabbed my dog and when I looked back i saw the coyote right next to me, so I just kicked him and started running with my dog in my hands," Mario Foca told KTLA. He said he was not injured during the incident, which apparently occurred along the San Diego Creek Trail.
Hartman said Irvine's Portola Springs community -- about 5 miles from Woodbridge and much closer to the foothills of the Santa Ana Mountains -- had experienced a similar surge in interactions with coyotes last. There were multiple reports of bites, primarily of children, in Portola Springs, she said.
But thanks to police outreach that led people to change behavior, there has only been one coyote sighting there in the last year, the captain said.
"I'm not sure if the problem is that there is more coyotes or if they're becoming more bold, but the answer at this point seems to be changing the behavior of the public," she said.
People should bring pets and pet food inside from dusk to sunrise, she said. If you see a coyote, make loud noises that make it so uncomfortable it will flee the area — keeping it afraid of humans, she said.
If you see coyotes exhibiting abnormal behavior, let your local government, animal control and neighbors know, Hartman advised.
Trapping operations have in the Woodbridge area stopped as of this morning, Hartman said. State wildlife wardens and city animal control officers were continuing to do dusk and dawn patrols, Mohr said.