This is an archived article and the information in the article may be outdated. Please look at the time stamp on the story to see when it was last updated.
Four firefighters were recovering Friday after falling through the roof of a vacant casino while battling a blaze in Cudahy, officials said.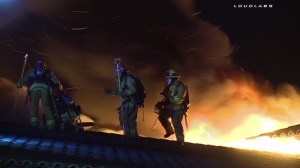 The firefighters were responding to a fire at a "small," vacant casino near Atlantic Avenue and Live Oak Street (map) around 11:30 p.m. Thursday when the roof collapsed, L.A. County Fire Inspector Chris Reade said.
The men were transported to a local hospital and said to be in good spirits and stable condition.
"Our rescue intervention crew went right to work, were able to get them out, and the crews were speaking with them the entire time," Reade said, adding that the men were conscious during the rescue.
Three of the firefighters were released from the hospital and one remained in the burn unit as of Friday morning, the Fire Department tweeted.
Arson investigators were at the scene Friday morning working to determine the cause of the blaze.
Atlantic Avenue was closed near the incident, and not expected to reopen until daylight so investigators had a better picture of the scene, Reade said.
The northbound lanes were reopened by 9 a.m.
No civilians were believed to have been injured in the fire.
Prayers for speedy recovery: Four @LACo_FD firefighters injured in Cudahy FIRE roof collapse http://t.co/v0YJcUPm3K #LACounty #lafire

— Michael Parker (@mplasd) May 22, 2015