This is an archived article and the information in the article may be outdated. Please look at the time stamp on the story to see when it was last updated.
Four pedestrians were injured after being struck by a car outside of a gas station store in Highland Park Wednesday morning in an incident police are calling a "mishap."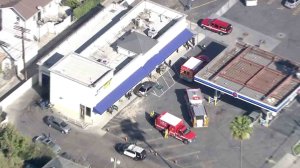 The crash occurred around 9:50 a.m. in the 4400 block of North Figueroa Street, according to the Los Angeles Fire Department.
Four customers were sitting in the waiting area in front of the business when a gas station employee accidentally plowed into the victims, a Los Angeles Police Department official said at the crash site.
"This was a case of a mishap, it was an accident. This is an incident where somebody wasn't calculating properly, their driving skills, and … stepped on the gas and didn't really factor in … what can happen when you don't realize what you're doing behind the wheel of a vehicle," he said.
The patients were transported to local hospital, but their injuries were not considered serious. The conditions of the patients were not immediately known.
Police did not release any other details about the driver, including that individual's name.
The cause of the crash is under investigation, and no additional information has been released.