This is an archived article and the information in the article may be outdated. Please look at the time stamp on the story to see when it was last updated.
Two robbery suspects were among four people injured after a violent crash involving several vehicles in East Hollywood early Monday morning, according to LAPD.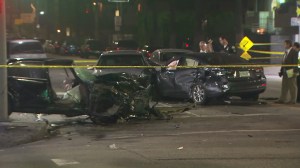 The incident began with a report of robbery about 11:30 p.m. Sunday in the area of Normandie Avenue and Romaine Street, said Detective Meghan Aguilar of the Los Angeles Police Department.
Few details about the robbery were immediately provided, but according to Aguilar, a gun was used. No force was used, she added.
The victim was OK.
About 12:30 a.m., a detective in an un-marked car noticed the suspect vehicle, observed a traffic infraction and turned on the vehicle's lights, Aguilar said at a morning news briefing. The officer monitored the dark-colored Toyota Camry but did not initiate a pursuit.
A short distance later, the Toyota crashed into a vehicle headed eastbound on Melrose, causing it to hit two other vehicles, according to Aguilar. The location of the collision is not far from the initial robbery call and where the detective first spotted the Camry, she said.
Four people were taken to a local hospital, including one of the robbery suspects who had to be removed from the mangled wreckage with the Jaws of Life.
Another who was later transported managed to flee the scene first before being captured at 2:30 a.m., according to Aguilar. The third suspected robber was taken into custody at 5 a.m.
Both were located within a half-mile perimeter that had been quickly set up following the crash. A K-9 unit was called in to assist with the search.
"They were located by the K-9," Aguilar said, noting that police were not searching for anyone else.
The injuries the four people suffered ranged from minor to major; none were considered to be life-threatening, according to the detective.
Police searched the car and located evidence.
"There was evidence in the … suspect vehicle of a robbery which had occurred approximately an hour prior in Rampart Division," Aguilar said. "That evidence included property that was taken and a firearm."
The intersection of Normandie and Melrose was shut down for several hours as police investigated the incident, video from the scene showed.
It remained blocked off as of 6:30 a.m. Aguilar said she anticipated the intersection would be shut down for several additional hours.