This is an archived article and the information in the article may be outdated. Please look at the time stamp on the story to see when it was last updated.
Three separate shootings on Saturday and Sunday in Compton left four men dead and another wounded, the Los Angeles County Sheriff's Department said.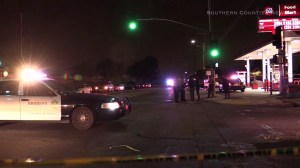 The first two shootings took place Saturday less than 2 1/2 hours apart.
Shortly before 5:20 p.m., an approximately 26-year-old man was riding his bicycle in the 400 block of West Caldwell Street when he was shot multiple times in the torso, according to the Sheriff's Department.
He was lying in the middle of the street when deputies arrived at the scene. The victim was rushed to a hospital, where he was pronounced dead, according to a sheriff's news release.
That same evening, a second man was shot and killed around 7:40 p.m. in the 1000 block of South Nestor Avenue, a separate news release from the Sheriff's Department stated.
The shooter was in a dark-colored, four-door vehicle when he or she passed the approximately 30-year-old victim, got out of the vehicle and opened fire, according to the release.
The man, who was shot multiple times, died at the scene.
The following day, a triple shooting in the 1200 block of Wilmington Avenue that occurred about 9 p.m. left two men dead and another injured, according to a third Sheriff's Department's news release.
All three men were inside a car pulling out of a gas station when an unknown man started shooting at them, the surviving victim told authorities. The gunman got away in a white pickup truck.
The Sheriff's Department has not released the names of the victims.
It was not known whether any of the shootings were connected.
No arrests were immediately made in any of the cases.
Compton Mayor Aja Brown issued a statement Monday afternoon, saying "public safety has been and will continue to be one of the top priorities," of her administration.
"Compton has dedicated maximum resources to addressing these serious violent crimes, including proactive prevention and intervention methods," the statement read in part.
Anyone with information about any of the shootings is encouraged to call the department's Homicide Bureau at 323-890-5500.
Those who prefer to provide information anonymously can call Crime Stoppers by dialing 800-222-8477, or text the letters TIPLA plus a tip to 274637, or by going to the website http://lacrimestoppers.org.