This is an archived article and the information in the article may be outdated. Please look at the time stamp on the story to see when it was last updated.
An investigation was underway Saturday into a deadly single-car crash in San Clemente, authorities said.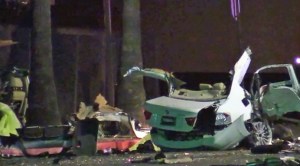 The driver of a late model BMW 3-series lost control in the 900 block of South El Camino Real and struck a light pole, then a tree around 1:29 a.m., the Orange County Sheriff's Department said in a statement.
Four people died in the crash, and one was injured.
The deceased victims were identified as Pablo Vargas Diaz, 25, of San Juan Capistrano; Martin Junior Nieto, 26, of Laguna Niguel and Lucia Garcia Solis, 27, of San Juan Capistrano, the Sheriff's Department said.
The fourth victim's name was not released to the media.
The cause of the crash remained under investigation, but investigators said speed and alcohol were factors.
A fifth person in the car survived.  The Sheriff's Department did not release the young woman's name, but said she was 24-years-old and suffered "significant injuries."
Investigators urged anyone with information on the collision to call the Orange County Sheriff's Department at 714-647-7000 or 949-770-6011.